Hitting Close To Home
Students discuss how having siblings and parents in the military affects them.
1.36 million Americans serve in the United States Military as of 2018.
There are five different general branches that make up the Armed Forces of the US: Army, Navy, Marine Corps, Air Force, and Coast Guard. Each plays a crucial role in protecting land, sea, and air the United States.
Because many serve far away, having a sibling or parent in the military can cause stress, anxiety and added hardships to a family. Miranda Jones, sophomore, has felt this first hand with her brother, Justin Jones, who currently serves in the Marines and is due to deploy in April of 2019.  
"
I miss hearing him sing, it made me laugh but now it just makes me a bit sad when I don't hear anything in the morning."
— Miranda Jones, 10
"Having a mom raising 4 kids on her own and now having a son go into the military has to be a lot for her," said Jones. "For me, it seems like I've been getting more [anxious] and worried about loved ones whenever they go somewhere. I'm always texting and checking my phone to see if they made it wherever they're going."  
While many experience siblings leave to go to college, having a sibling leave to go into the military can be frightening and prove challenging. Communication can be difficult as many times service men and women are not allowed to have their devices on them and are not presented with the right opportunity.
The Marine Corps is known for their rapid response in both sea and land. Because Marines are often sent for seven-month deployments, it can be very hard to contact them.
"It's weird having [Justin] gone all the time, he used to be at home singing in the shower and playing video games. I miss hearing him sing, it made me laugh but now it just makes me a bit sad when I don't hear anything in the morning. He's going to be gone 7 months but they may need him longer depending on how it's going over there," said Jones.
In a similar situation, Harold Warr, junior, has also felt the absence of a family member who is serving. His father currently serves in the Air Force as a Technical Sergeant under the rank E6. He started serving in the military 17 years ago, right as Warr was born.
Following in his own grandfather's steps who served in the Marines for 25 years, Warr's father grew up learning a lot about the military.
Though it can be hard for Warr to visit with his father, he still sees him from time to time and Warr feels that overall he was there for him while he was growing up. It has been hard for Warr to not have his father by his side during important events and the firsts of his life.
"My football career is important to me," said Warr. "I feel like he's missed everything starting high school and that really impacts me because he doesn't come out to watch my games or really come see me lift and work hard on the practice field."
Having a family member in the military is no doubt emotionally challenging. But even so, we are forever appreciative and in debt to the service that the United States Military has provided for our security here in the United States.
About the Writer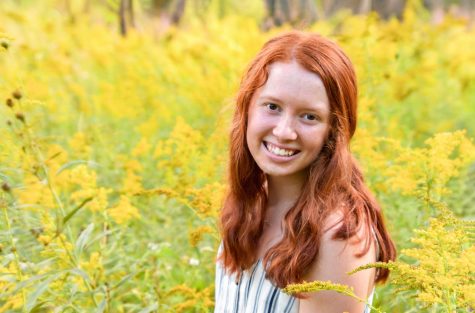 Grace Brusegaard, Editor In Chief
Born in Omaha, Nebraska and raised in North Liberty, Iowa, Grace Brusegaard is a senior who has been involved in journalism since freshman year. Ever since...