Shooting for the Stars
As year two continues in a collection of successes, the girls of the Liberty Dance Team take no breaks to finish the season strong.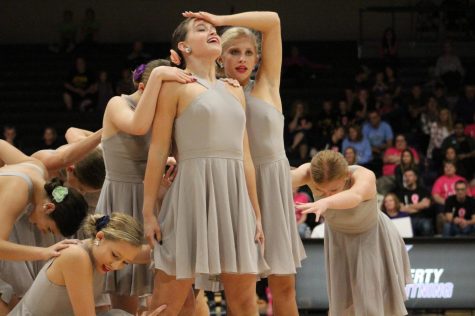 The Liberty Dance Team saw immense success last season. Winning second at nationals was a huge deal for the newly formed team. As they continue to work hard and finish up their second year, the girls rise to each occasion, already winning first in pom and lyrical at Iowa Spirit Spectacular. Plus, they became State champs for the second year in a row, along with winning the esteemed Judges' Award.
With the second season rolling full steam ahead, LDT continues to grow as a team to become stronger, hardworking, and more determined dancers and people.
Being apart of a dance team is a serious commitment. With practices at 6 am on Saturdays, the girls sacrifice sleep and family time, among other things, to be on the team. However, despite every drop of sweat, tears, and muscle ache, it is worth the price.
"It felt so good to know that [after] all those hard practices, especially the Saturday 6am practices, all our hard work paid off," Brooke Langland, sophomore, said.
Reflecting on the hard work from this season, Hailey Ankenbauer, sophomore, stated, "In the past year, all the the girls have poured out so much energy to make this work… but if we keep pushing past our limit for these next few months we could accomplish getting into finals [at Nationals], which is extremely difficult. Staying humble and using our grit and determination will help us stay on track to meet our goals not only for dance but in life."
Determination and hard work are two important aspects to any team, but specifically in  dance team, focusing on doing their absolute best at all times. Having that focus drives the girls to accomplish their goals and be confident on the stage.
"The team has gotten more determined to do well compared to last year," Josie Anderson, senior, said. "I think if we keep our determination throughout the rest of the season, we'll do [well] at Nationals."
The confidence each girl has is proof of their hard work.
"We all have realized the importance of hard work and dedication and we are willing to push ourselves and go as hard as possible," said Megan Ries, junior.
Some of the proudest moments that Coach Katie Melloy has seen are when the girls go on stage, immensely confident in themselves.
"It's a good feeling for us coaches to watch our team take the floor with confidence. In that moment, you know that whatever happens, the team is going to be proud of themselves, and that's what I always dream for them," said Melloy.
While the confidence comes from all their hard work, loving do is another aspect that Coach Melloy says is the foundation of the drive for success.
"Hard work and determination are two key elements that any successful program understands is necessary. However, these two words can be overwhelming when looked square in the face. The secret to hard work and dedication is truly loving what you are doing," commented Melloy.
The bond between the gifted dancers has grown since last year, even with the addition of four new members.
"I came to realize that [having new members] would only make the bond stronger. Having more girls on the team that are loving and caring has given the team a brighter light to shine," said Ankenbauer.
Proof of their bond is shown through their friendship.
"It's nice to have 18 best friends to hang out with [on] the weekends," Anderson said, and similar comments were made from Langland.
The bond created through dance is something special and seeing each other every day makes their friendship even tighter.
"We all love being around each other," Ries stated.
Most of the girls agree that the goals that have been set aren't about the trophies; they're about developing their determination and always working hard.
"We definitely set high goals for ourselves, but it isn't because we are focused on the win…  No matter the opinions of others, at the end of the day, when you believe in yourself enough to try, what do you have to lose? I see us trying and giving our very best these next two months and believing in ourselves more than we ever though we could or would," said Melloy.
With almost two months left in the year-round season, the 2018-2019 Liberty Dance Team plans to leave a legacy that will last years and to continue growing not just as dancers but as people and a sisterhood.
About the Writer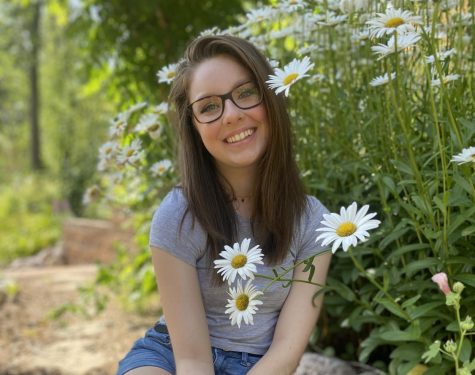 Lauren De Young, Editor in Chief
Lauren De Young, senior, is on the staff for the third year. At Liberty, she is involved in INSHOC, NHS, and journalism. Lauren loves volunteering, recently...