A Brief History: Crepes
Learn a little about French cuisine and how to make crepes!
Light, thin, and filled with the most delicious berries and whip cream; a true delight. Crepes are a French delicacy, having been a staple in French cuisine since the 1100s. This sweet-or-savory street food has a cultural impact that has lasted generations. Today, crepes remain a French treat that are easy to make with this super simple recipe!
Crepes have a thorough history in France. Originating in Brittany in northwest France, crepes are thinly cooked pancakes. They're made by pouring thin batter onto a hot frying pan and spreading it into a thin, even layer. Because Brittany is very wet and not suitable for wheat production, crepes are traditionally made with buckwheat. Crepes today can be made with flour for a sweet treat or buckwheat for a savory delight.
This common street-food is even celebrated with its own holiday in France. February 2nd, the Day of the Crepe, marks the decline of winter. Also called La Chandeleur ('the return of the light'), the day celebrates the coming spring light by making crepes.
SWEET CREPES
Makes 10-12
3 eggs

¾ cup flour (can substitute with 12 tablespoons buckwheat)

1 cup milk

1 ½ tablespoon melted butter

Dash of salt

1-2 spoonfuls of sugar

Round skillet

Immersion blender/hand mixer

Crack eggs into a mixing bowl and whisk them together

Add flour, milk, butter, salt, and sugar and combine with an immersion blender or hand mixer

Once the batter is one smooth consistency, heat a lightly-buttered skillet to medium heat

After the butter is mostly melted, pour ¼ cup of the batter into the skillet and spread it into a thin layer by rotating the skillet

Let the first side cook for about 40 seconds then flip it over and cook the other side for 15-20 seconds

Fill with whatever you like!
Berries, fruit filling, lemon juice, and sugar, caramel, brown sugar, chocolate, whip cream, Nutella, or marshmallows, chocolate, and crumbled graham crackers to create a s'mores crepe!
     7) Bon appetit!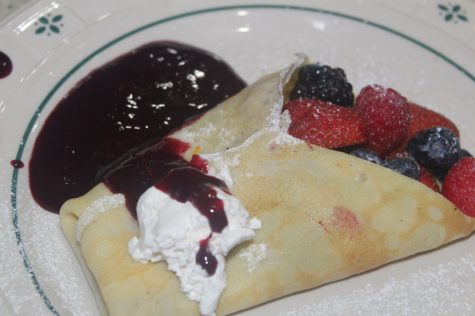 FRUIT SAUCE
3 cups of frozen berries or any fruit you like (I used mixed berries – raspberries, blackberries, strawberries, blueberries)

½ cup of orange juice

½ cup sugar (can be adjusted to how sweet you want it)

Zest of one orange (about 2-3 tbsp)

1 tbsp cornstarch
Combine juice, zest, sugar, and berries in a saucepan, heat on high

Once the mixture has started bubbling, turn down the heat to medium for about 10 minutes and mix in cornstarch

Stir and mash the berries every few minutes

Once you are able to wipe the back of a spoon clean with a finger, turn of the heat and let cool down

After it's cooled for about 5 minutes

Pour over crepes, pancakes, waffles, or whatever you prefer!