The Sport of Speaking
The Live Wire explores the benefits of speech.
Walking into the classroom, you first notice the three judges. Nerves still running through you, your palms are slick with sweat. You grip the podium, take a deep breath, and think of how far you've come. You start speaking, voice shaking at first, but soon becoming strong. After you finish your speech, you confidently walk out of the class, knowing that even when you messed up, you delivered your message. That's what it's like in a speech competition. Speech is a school club that not only focuses on reading, writing, speaking, and listening, but also teaches confidence, assertiveness, hard work, dedication, and communication.
According to the Iowa High School Speech Association (IHSSA), speech is a sport that aims to teach students how to express one's beliefs and ideas. A major part of speech is being able to communicate clearly and effectively, especially in front of an audience.
"[It's] something that a lot of students in classrooms tend to be very fearful of and don't want to do, and it is a skill that needs to be practiced and harnessed," said Brad Borrison, one of two speech coaches. "This is a way to actually practice and harness this skill with material that you want to do, that you enjoy doing. It's about [starting] at one point and [improving] through the process, and you get better at being up in front of people and more comfortable being in front of people."
The other part of IHSSA's goal is learning how to express one's ideas and beliefs. Many people join speech in an effort to communicate a message close to their heart and start a change.
"I really love [sending] out a message to people. Even though it can be nerve-wracking sometimes, it's worth it because even if it is a small audience, [it] is where changes start happening," said sophomore Nancy Espinoza, who performed at district and State.
"
I really love [sending] out a message to people. Even though it can be nerve-wracking sometimes, it's worth it because even if it is a small audience, [it] is where changes start happening"
— Nancy Espinoza, sophomore
Additionally, the National Speech and Debate Association says that speech is a great confidence-building activity.
"Seeing an individual get better at something and the confidence that someone has when they practice something a lot and then perform it and go 'that went really well,' that's the pay off, when you actually see someone proud of their work," said Borrison.
Many great memories and friendships are built from being on a speech team.
"My favorite experience would be getting to know the people who joined it and being a part of it. I started new friendships and I got to hear other people's perspectives on controversial [topics]," said Espinoza.
Speech coach Gabrielle Kouri reflected these sentiments.
"I think that joining a speech team is really valuable because you learn about yourself and other people, you learn to collaborate, and it tends to be less pressure than certain other group activities because at the basis of speech is the human being, so it is an event that engenders a lot of comradery," said Kouri.
Every practice works towards perfecting and refining speeches for competition. Competitions show the hard work and dedication of each student.
"The competition was the best part because it was really different — I've never really experienced anything like it before… I was very nervous beforehand. The hardest part was [the] 'before.' Once I walked into the classroom and got up in front of the judges, I was fine. I knew what I had to do," said sophomore Avery Clark, who participated in district and State.
Competitors can participate in a variety of categories such as individual speech or group acting. Participants first compete in a district contest, aiming to get all a one from the single judge. Getting a one is the best a student can do; the higher the number, the worse the performance. Then, students who scored a one compete at State, where there are three judges, again aiming to score ones from all judges. Next is All-State, which students have to be nominated to perform at, and from All-State, competitors go to regionals and nationals. This year, Liberty's speech team had seven participants, all participating in individual speech, and five out of seven students qualified and performed at State. Although none of the students qualified for All-State, the coaches expressed that they were incredibly proud of the team.
"This year we had a great, small first team," said Kouri.
About the Writer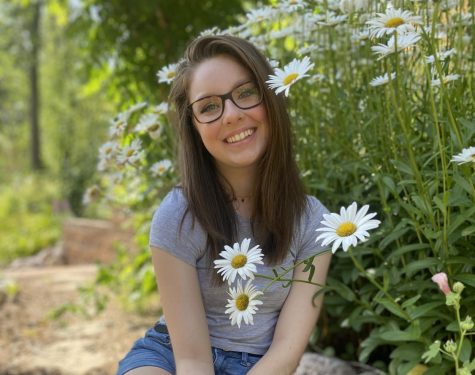 Lauren De Young, Editor in Chief
Lauren De Young, senior, is on the staff for the third year. At Liberty, she is involved in INSHOC, NHS, and journalism. Lauren loves volunteering, recently...