Liberty SLAP Takes the Stage
On November 8th and 9th, SLAP put on their performance of The Rehearsal and Offerings.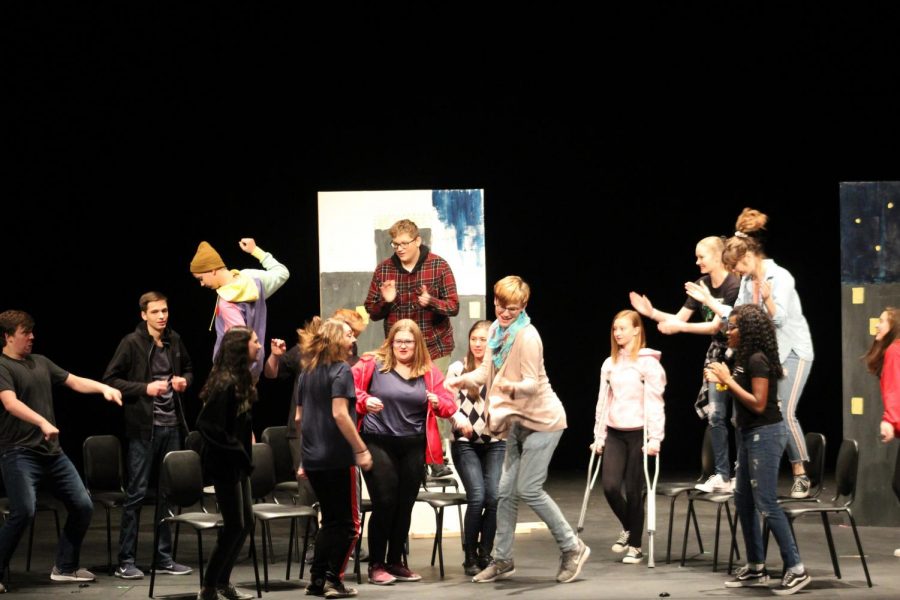 SLAP, Liberty High School's Student-Led Acting Program, is a theatre group run by the students of Liberty High School that relies solely on the hard work and direction of students to put on a show for the rest of the student body and the general public. 
SLAP performs shorter comedies and dramas that are usually only one or two acts long. In the two years, the program has existed, SLAP has performed a total of 3 plays, Weird Sisters by James Venhaus, Offerings by Alan Haehnel, and The Rehearsal by Don Zolidis. Directors Elizabeth Davis and Lila Panek, seniors, will be leaving the program Davis created in the hands of Posey Stoeffler and Deucalion Martin, sophomores, when they graduate.
 Panek expressed in her director's note that, "being a director of SLAP has been one of the greatest experiences of my high school career. […] I can't imagine what my life would look like without having been part of this group."
"I first learned about SLAP last year when it was first established and I knew immediately that I was going to get involved. I'm friends with both of the directors and had faith in their abilities to produce a great show. I really enjoy acting and knew that the environment would be a good fit for me," said Abby Fowler, senior.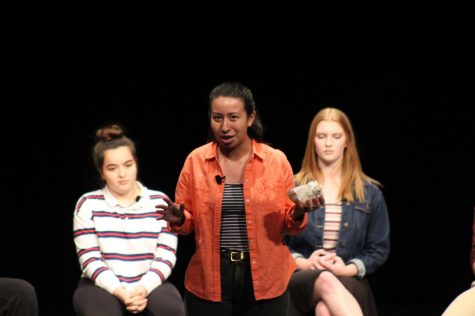 This year, SLAP rehearsals took place over a 6-week period, and the show happened immediately afterward. Even though Liberty Lightning Theatre provides a longer period of time to prepare for shows, SLAP offers a lower-stress environment that appeals to beginners and actors that can't commit to the demands of the full theatre program. SLAP is a starting point as far as theatre programs go, but many students still take part to show their support for something that couldn't exist without them.
"We try to keep the atmosphere of rehearsals casual and chill, and we make sure actors feel free to say what's on their minds. […] You can make the weeks of rehearsal as fun as you want, but its the performance that makes it all worth it. I just hope [my actors] all loved being a part of it as much as I did," said Davis.
Like LLT, SLAP undergoes a "tech week", which is the week leading up to the show and usually is the most stressful part of the process. Cast and crew members must build and paint the set if needed and run the show over and over until they know it inside and out. Luckily for SLAP, most of the focus goes into acting rather than creating a picture-perfect set. Since funding for SLAP comes from the performances and the concessions offered during intermission, extra things like the set are put on the back burner so that the acting can take priority.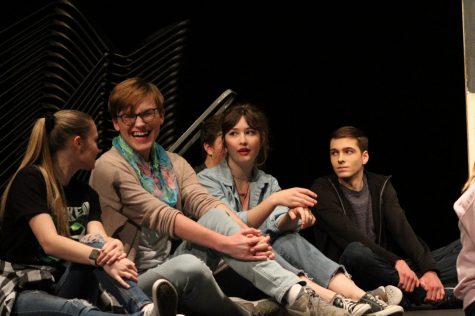 Despite each of this year's plays only lasting for about half an hour, they had plenty to offer. The SLAP program had many more participants this year which allowed for two completely different casts for each show. This is something that was unachievable last year since the program was brand new and not well-known. With so many fresh faces, SLAP has a lot more room to tell great stories that are just as fun to watch as the school play or musical, as well as offer every student the opportunity to act. 
Because the program runs on the hard work and dedication of the students involved, this program isn't something that can be supported by the school if there is a lack of interest. This is why it is important that students continue to get involved and give it just as much gusto as they would with the school play or musical. 
"It is important to keep the program going because I believe it is a great way to provide students with a wonderful introduction to theatre in a fun and low-stress environment," said Beau Leavenworth, junior. 
The goal of a student-led program like this is to make everyone feel like a part of something special and to promote group cooperation to create something all on their own. As the saying goes, it takes a village.
In her director's note, Davis remarks, "I feel like we've truly come into our own this year. Of course, we owe this to the wonderful cast and crew who have put just as much blood, sweat, and tears into SLAP as anyone. I have more faith than ever that this program is being left in good hands."
About the Contributors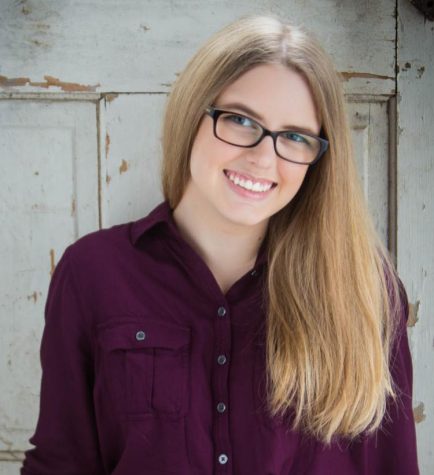 Aubrey Dallner, Writer
Aubrey Dallner, a senior, is a new member of The Live Wire staff. Ever since grade school, she has enjoyed writing stories and making art, so joining The...