Aidan Williams or "A Boogie the Beast" is Kaleb Williams' cousin. Aidan, 9 years old, is battling Leukemia, but Aidan has not let this dull his spirits or stop him from doing what he loves. Aidan still plays football and soccer in his yard with his friends,rides his bike around, and is Kaleb's number one supporter. He comes to watch Kaleb's football games when he can.
Kaleb has not let this slow him down either; he uses it as motivation to always do the best that he can, and to not just better himself but make others around him better. 
"He [Aidan] continues to fight each day. Aidan is very competitive and doesn't give up on anything, and pushes me to do everything I do the best of my ability," said Kaleb. 
When Aidan comes to Liberty football games he is easy to spot because he is wearing Kaleb's white jersey. When you see him, he always has a smile on his face. There is no stopping Kaleb, when Aidan is at the game. 
Kaleb tends to get in the zone when A Boogie the Beast shows up. Scoring touchdowns and racking up tackles, playing like he's playing his last game ever. Getting in on every tackle, when he gets the ball, it takes three defenders just to bring Kaleb down, breaking tackles and faking out defenders. When Kaleb scores, he points up to the night sky then over to Aidan letting him know that he is doing it for him.
When Aidan is at the games it makes him feel amazing and it gives him so much energy and he just wants to go out there and put a smile on Aidans face.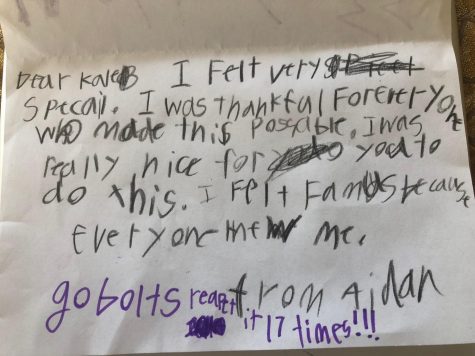 Last year, Aidan was the honorary kid captain for the Difference Makers purple out game against Mid-Prairie. Kaleb was so happy when he heard the news. One of the biggest games of the season and Aidan gets to walk out to midfield with a whole town behind him, chanting his name and cheering for him, as he calls the coin toss.
"I was so happy and so excited because it's gonna be an experience that me and him are never gonna forget and I'm so happy that me and him got to share that moment together," said Kaleb. 
Even when Aidan isn't at Kaleb's games, Kaleb still goes all out and plays his heart out, doing everything he can to help his team. After every game, he always facetimes or texts Aidan to tell him how the game went, and just to talk to him.
This past season and the season prior, Kaleb wrote "Run Like Aidan" on his cleats. He puts it there to be a constant reminder to do everything 100% and never give up. It reminds Kaleb who he is playing for. It's more than just words, it means that he is going to give everything he has just like Aidan does when battling cancer, and that you have to give everything you have and then a little bit more.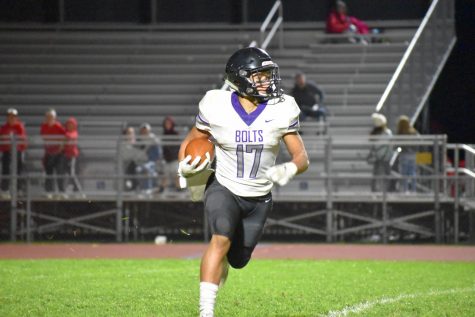 Many people would break down under these type of circumstances and not be able to take the pressure, but Kaleb has not followed this mold. Kaleb has used this as motivation everyday. While many others would crack under this type of pressure but unlike others Kaleb has blossomed and while Kaleb is blossoming he is inspiring others and making impacts on other people's lives.