Starting Varsity As a Freshman
Being a starter for a varsity sport is impressive, but when you are a starter on varsity as a freshman that's something special. Keiko Ono-Fullard is a freshman at Liberty and is quickly developing into a star on the girls varsity basketball team.
Fullard is a freshman and is a bright spot on Liberty's Varsity Basketball team. Whilst some people don't start on varsity until their senior or junior year of high school, Keiko is starting as a freshman.
Fullard comes from a sports family: her mom played softball and volleyball, her dad played basketball in college, and her brother also plays baseball for the University of Iowa currently. Athletics is in her blood, and you can tell when you see the way she plays on the court.   
Q: What does it mean to you that you are starting varsity as a freshman?
A: "It's a really cool experience and im really lucky to have that opportunity all the upperclassmen have been really helpful."
Q: Coming from an athletic family, do you feel like there is pressure to always go out and shine?
A: "No, I try not to think about that. I just try to go out and play and know that my teammates always have my back."
Q: Your brother is also very athletic and played basketball at West High. Is there any friendly competition to one up your brother's high school basketball career?
A: "Yeah for sure. We have always been competing with each other from grades to sports."
Q: Who do you look up to or idolise in the WNBA/NBA/College basketball?
A: "I really enjoy watching Skylar Diggings who plays for the Dallas Wings. I'm a big fan of hers and I love watching her from college to WNBA." 
Q: What do you feel is your biggest strengths as a player?
A: "I would say driving and facilitating the ball, spreading the floor and passing the ball."
Q: What is your mentality when you enter the gym?
A: "I try not to think about too much technical stuff because then I psych myself out." 
Q: How would you describe this season so far?
A: "It's going really good, but your record doesn't show what kind of a team we are, and with all of the sudden roster changes, it's been hard to adjust but we are improving every day." 
Q: What do you think the future holds for the Liberty girls basketball?
A: "The future looks pretty good. We have a lot of talent coming up that will be a big help to our team."
It's pretty special to start of varsity, let alone as a freshman. Fullard is one of Liberty's top scorers and quickly developing into a steady consistent point scorer. The future is bright for this young Liberty star.
About the Writer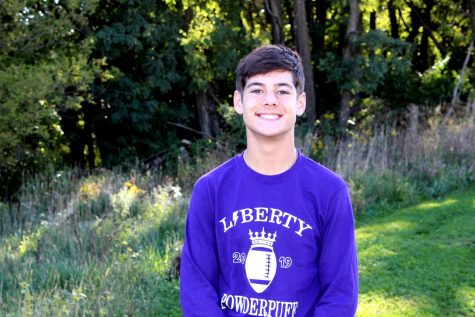 Brody Fishman, Reporter
Brody is a senior at Liberty, and this is his second year on the Live Wire staff. Brody plays football, baseball, and also runs track. His favorite subject...