Liberty Teams Storm the Stage
This weekend, Jan. 31-Feb. 3, two Liberty teams saw success. The varsity dance team traveled to Florida to compete in nationals, and both show choirs competed in the Davenport North Big Dance.
Liberty saw much success this past weekend. Liberty Varsity Dance Team competed at Universal Dance Association nationals and placed eighth in Small Varsity Pom and ninth in Small Varsity Jazz. Liberty's all-female prep show choir placed second in their first competition as a group. Lastly, in the first competition of the season, Liberty's mixed show choir placed first runner up and claimed the title of Best Vocals.
Show Choir / Band
Liberty's two show choirs competed in their first competition on Saturday Feb. 1 at Davenport North High School. 
Under the direction of Bob Anderson, Liberty's all-female prep choir, Impact, placed second out of six in their first ever competition. Their theme is "A Night In the City" and included songs Shadows of the Night, It had Better Be tonight, City of Stars, and We Built This City (On Rock and Roll).
Storm, Liberty's mixed show choir, was second runner up and garnered Best Vocals. Their theme is "Happy Together", and the group is directed by Caitlin Brannaman, music teacher. They performed songs If I Had You, Steal Away/Take the "A" Train, With You, Workin' My Way Back To You/Turn to You, and Happy Together/Together Forever.
"It is a show about 2 people who find each other and fall for each other. After going out one night, something happens and they get separated and then they realize how much they miss the other person," Emma Dreyer, junior, explained. "They then vowed to work out whatever happened because they wouldn't want to be with anyone else. By the end of the show, they have found each other again and end up being 'Happy Together' forever."
The year-long performing art starts in August with learning dances and ends in late February. The combination of acting, singing, and dancing is ultimately rewarding.
"Hearing that we placed second AND won best vocals was one of the best feelings in the world!" said Dreyer. "We have been working so hard this year and it felt like everything we had done paid off."
Show band plays the accompanying music for the show.
"We are… the band that accompanies the singers and assist them in keeping time and playing when the emotion can't only be explained with words," said Killian Ritland, sophomore and trombone player for show band.
Memories were made for both the choir and the band.
"[My favorite memory was] just walking around with my friends, sliding around the freshly waxed hallways in our dress shoes," described Ritland.
Varsity Dance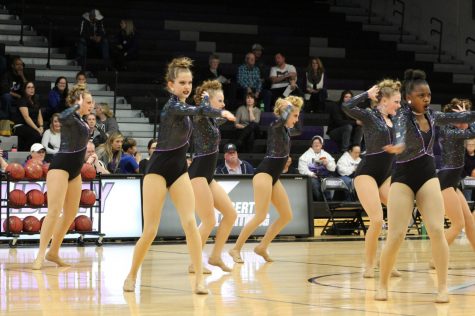 Over the past weekend, the Liberty Varsity Dance Team traveled to Orlando, Florida to dance at the Universal Dance Association competition. Under the three coaches, the ladies perfected their fierce routines, surpassing expectations at the national competition. They placed eighth in Small Varsity Pom and ninth in Small Varsity Jazz, competing against the best in the nation. This makes them one of the highest competing high school dance teams in the nation. 
"Nationals was truly the most rewarding experience! We put in so so many hours for these three days of competing," said Megan Ries, senior. "[A]nd although it's mentally and physically exhausting, I wouldn't trade it for the world!"
Since the beginning, the goal for the team has been to reach finals at nationals.
"We all just cried so hard because all the hard days and early mornings became worth it," Ries continued. "We weren't expecting anything going into finals in terms of placement. We were just so happy we had the opportunity to dance with the best teams in the nation! Getting top ten was the cherry on to and was one of the best moments for us as a team ever!"
Their hard work this season was awarded with many different titles. In the Iowa State Dance Team Association state competition, they placed first in Small Varsity Pom and third in Small Varsity Jazz. They also placed first in both Small Varsity Jazz and Pom at the Chicagoland Regional Dance Championships. In the state solo competition, the seven dancers that competed all received Division 1 ranking. Ellie Grimm, sophomore, placed fifth, and Ries placed tenth.