Liberty Highs Wrestling Season
With wrestling season upon us, students and coaches reflect on the covid-safety regulations for such a close-contact sport
ICCSD has allowed students and coaches to participate in their sport this whole year, as long as the COVID rates for our county is low. In order to help keep rates low, all teams are required to follow the ICCSD policies regarding COVID-19 and there are many precautions that need to be taken to keep everyone safe.
The wrestling season started on Monday, December 14, 2020. The team's official practice was supposed to start on Monday, November 16, 2020.
Because of COVID-19, There are many precautions sports teams must use to be safe and stay healthy. 
"As soon as we walk into the wrestling room our temperatures are taken, and we are asked [verbal COVID screening] if we have experienced any symptoms [since the last practice]," Gabe Avalos, junior, said.
Masks are also required 100% of the time unless the wrestlers are currently in a wrestling match or drinking water.
"If everything is okay with their temperature and the health screen questions, athletes must clean their wrestling shoes prior to stepping onto the wrestling mat," Coach Joe Williams said. 
As an extra precaution, the team is split up into two groups, in which they practice in separate rooms. 
"
What keeps me focused and motivated is while im training I block out all distractions and get to work on improving my skills"
— Darius Willis Newell
Liberty's Wrestling Coaches and the 25 athletes are working together, the team has grown very close this season.  
" I completely understand the stress they are going through and for them to continue to come to practice and give 110% …everything they are dealing with builds charter, discipline, & teaches us all how to make adjustment[s] and deal with adversity. You can always find a way to train, stay [on top] of your schoolwork, and make it fun. We just need to continue to encourage them to think outside the box," Coach Williams said.
So far this season, Liberty Wrestlers have had a home meet against CR Washington, attended the Maquoketa Invitational Tournament, Placed Second at the Anamosa tournament, and Placed 3rd at The Ottumwa Invitational Tournament.
Friday, January 29th, the team had their senior night at City High School, with the City wrestling team and Cedar Falls Wrestling team.
In Two weeks Liberty Wrestlers will attend the  Mississippi Valley Conference [MVC] Tournament
About the Contributor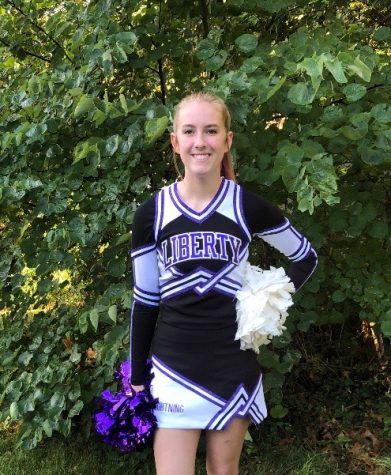 Emma Johnson, Reporter
Emma Johnson, junior, is a first year staff member. At Liberty, she is involved in cheerleading. In her spare time, she enjoys watching crime and horror...