Boy's and Girl's Soccer Season
The Live Wire discusses the boy's and girl's start to the 2021 soccer season.
April 8, 2021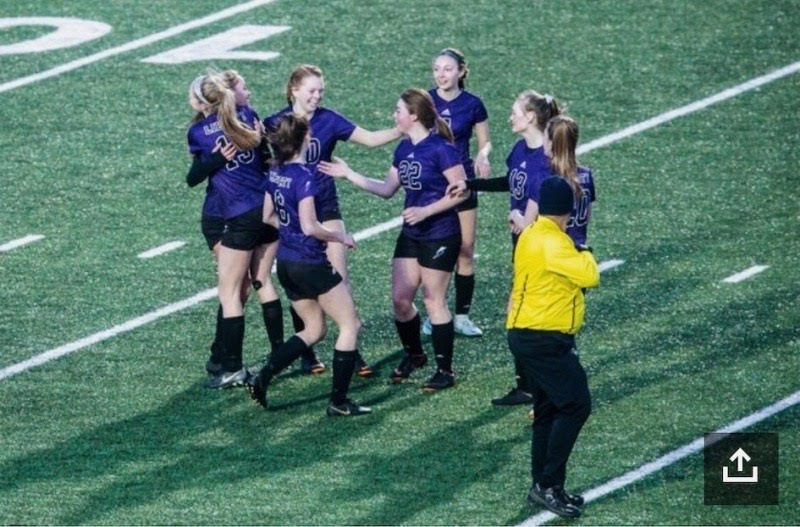 Liberty Girls' soccer
"I was heartbroken [when the season got canceled]. I remember waking up and hearing the news and my heart sunk. It was one of the worst feelings I've ever felt in my entire life," said Oksana Sharp, senior.
After finishing the 2018-19 season 7-11, the girls' also had their 2019-20 season canceled due to COVID
Ashley Bonilla, junior expressed something similar: "I was devastated when I heard our soccer season was going to be canceled. The team had just started to form bonds with one another, and we were looking forward to playing with each other one last time before the senior class of 2020 graduated."
"
I was really excited to play with my close friends again… since it felt like our season last year was robbed from us."
— Ashley Bonilla
After the first week or two of practices, the girls seem really excited to get the season rolling.
In practices and preparation before the first game of the season, the girls make sure to follow all safety precautions to try and keep everyone safe and healthy.
"We all check up on each other and make sure we are all doing what we are supposed to: masks, social distancing, and whatever else we need to do," explained Sharp.  "It's important that we keep each other and others around us safe. Especially if we want to get through our season."
"We definitely would take action right away [If someone was to get COVID). Keeping each other safe is important. Knowing who was where and who to quarantine so others can play is important too. we don't want to take anyone out of a season," said Sharp.
The girls played their first match of the season against Mid-Prairie. Dominating 6-1 according to Varsity Bound. They will play 16 games over this season.
Instead of one main team captain, the girls seem to have the team mindset.
"I honestly think that everyone is to watch this season. We have some hidden gems on the team too… Everyone does have their time to shine through. I think it's important to distribute the attention between others as well," said Sharp. 
However, one player that stood out in the girls' first game was Grace Heddens, junior. Heddens lead both teams is scoring three goals in the first half of the game. 
"I was excited to play Mid-Prairie for our season opener," said Gracie Gingerich, senior. "They were a good competition for us."
Their next match is against Central Dewitt on April 9th. The match is at home and starts at 4:15. It will definitely be a good one.
"I'm most looking forward to playing West. Two years ago we lost a tough game to West. There was a storm so we had to postpone the rest of the game because of the severe weather. We ended up losing, but I'm looking forward to playing them again this year," said Gingerich.
The girls have a lot of potential for this season, which can lead to some high goals to achieve.
"As a team, we just want to win," said Sharp.  "We all want to grow together and be the best that we can be! We also really really really want to make it to state sometime soon!"
"We're working hard to make sure that we are staying positive even when the training and the mental side of soccer seems challenging," said Bonilla. "By coming to practice with a good attitude and mentality and bringing that to our games as well. Building chemistry and encouraging one another is going to help us throughout the season as well.
Leading up to the season, the girls want to see as many fans as possible in attendance to support girls' soccer.
"Liberty is just starting off; as the season and team progress the better, we'll get. It's worth coming to watch," said Bonilla.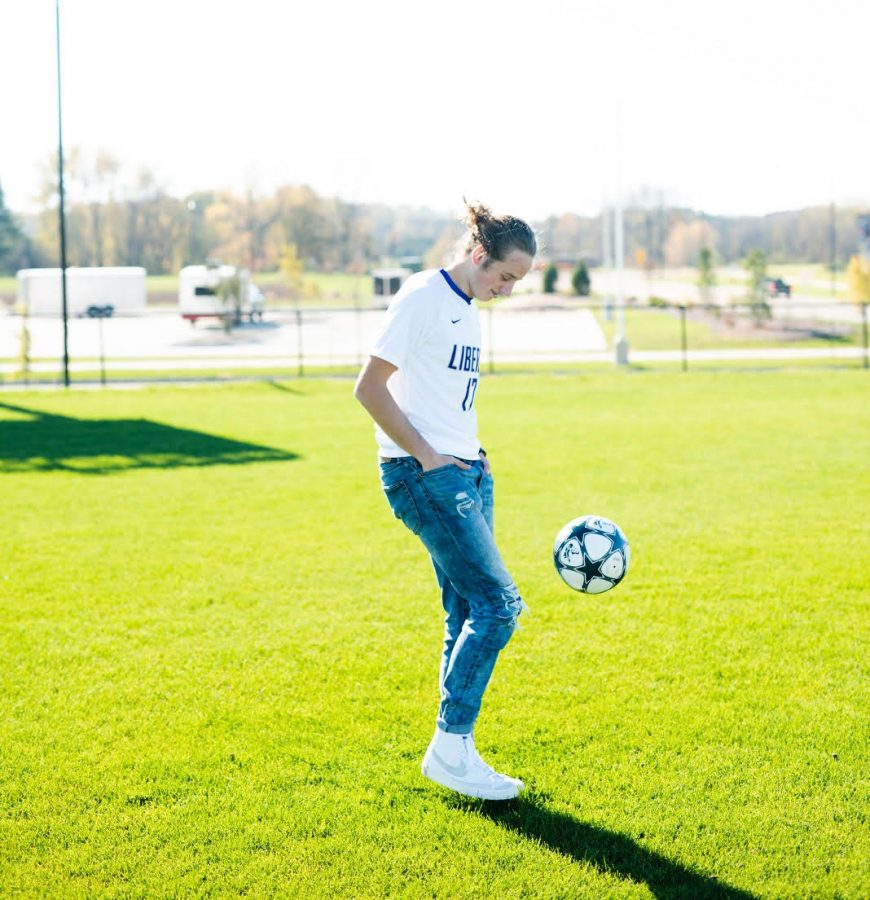 Liberty Boys' soccer
This 2021 boys' soccer team has high hopes for this season, after finishing their 2018-19 season 7-11. The Bolts are eager to get back on the pitch after having their 2020 season canceled due to COVID.  
"I was disappointed to hear the soccer season was canceled,  but I think it was the right decision," said Josh Fowler, junior. "A lot was still unknown about the virus, and I couldn't see the season being played out at that time."
After the first couple of practices, the boys got back into the swing of things.
Filler Text
"
We've only had a couple of scrimmages so far, but they have been lots of fun. Winning our first scrimmage against CCA definitely got me excited for the games to come and made me more confident in our team."
— Hayden Thompson
"There wasn't a lot of nerves or pressure," said Chris Nair, senior. "It was just a lot of fun to be playing again."
The boys have already had multiple practices and scrimmages this season. This has led to many players feeling excited and ready to play.
"We've only had a couple of scrimmages so far, but they have been lots of fun. Winning our first scrimmage against CCA definitely got me excited for the games to come and made me more confident in our team," said Hayden Thompson, senior.
This season the Bolts started them off right, beating the CCA Clippers in a scrimmage 4-2 and Marion in a Jamboree 1-0, but falling to City, 3-1. In their most recent match, they destroyed Waterloo East 9-0 according to Varsity Bound. They will play 18 games throughout the regular season.
"We are most excited about playing West and City. Since they are our neighbors and rivals," said Nair.
During practices, the boys' team is making sure to follow all safety precautions to try and keep themselves and their team safe.
"To prevent Covid during the season, we wear our masks during practices and lifts. We also try to split into smaller groups during practice and be socially distanced as much as possible," said Fowler.
"If someone on our team tests positive everyone who was exposed to them will have to be quarantined, I'm not sure what the protocol is for another team testing positive," said Thompson.
Throughout the practices and the beginning of the season, a few players have stepped ahead of the pack.
"One of the leaders this year is Amah Ajavon," said Nair. "He always has a good attitude and never complains. He always seems to put the team first."
After the good start to begin the season, the boys have had a good jumpstart towards their team goals.
"The main goal of the team this season is to establish a culture and create a successful soccer program for the school," explained Fowler. "We are going to work hard and push each other every day to become better [to achieve our goals]; as teammates and as players."
With this being only the third year of Liberty soccer, the boys' have a unique opportunity to create a culture.
"I plan to start a culture on our team that is positive and competitive," said Thompson. "Players will be able to learn from their upperclassmen teammates and be built up as players so that they can be the leaders when they are upperclassmen."
"We are trying to be more positive on the field and during practice. Giving each other constructive criticism and tips instead of being destructive," said Thompson.
The boys' next game is on April 9th. They will play Central DeWitt at Dewitt, and it starts at 6:30. The boys are hoping that as many fans as possible will attend the game to show their support and help them beat the Sabers.
"I know for our first home scrimmage each JV and Varsity player got 3 tickets. But for games outside the district, I'm pretty sure the fan restriction has been lifted," said Thompson.
With a good start to the season, the boys have to continue to grind to achieve their goals for the season.
"Goals are a lot more exciting when you have a student section to celebrate them with," said Thompson.