Making Space
In the 2018-2019 school year, students and teachers of Liberty High School have been feeling some growing pains concerning the hallways, parking lots, and the building itself.
Hang on for a minute...we're trying to find some more stories you might like.
STUDENT BODY
Chaos arises at Liberty High School on August 23rd at 8:50 am. Teachers watch as the students rush to fill up every space of the previously empty parking lot and rush into the school, causing the empty hallways to become significantly more crowded.
Stretching from roughly 700 students to approximately 950, Liberty's student body increased a considerable amount from 2017-2018 to the 2018-2019 school year.
"It's a hair below what I thought it would be. I thought it was going to be a thousand and we're at 953," said Scott Kibby, Principal of Liberty High.
Liberty High's current capacity is only 1000 students. With 950 students and 64 teachers, it is a pretty full school.
Liberty is quickly approaching max capacity. The growth of the student body was noticeable to both staff and students, even before the first day of school.
"It was definitely way more crowded. I was here for freshman orientation and just the freshman in the hallways, you could tell it was going to be really crowded this school year," explained Dylan Schmidt, senior.
Other students noted the increased crowds throughout the hallways and commons.
Rylie Baldes, sophomore, said, "The first day of school was really crowded, especially the main staircase."
By walking through the halls or watching the students bustle by, the packed atmosphere can be very overwhelming.
"It feels like you're [being] smashed together," said Ada Gallegos, freshman.
Even though there is a plan to add onto the building, this solution won't be implemented until the 2019-2020 school year, assuming the project goes as planned.
The student body will increase even more next year, causing future growing pains, until the new addition is completed.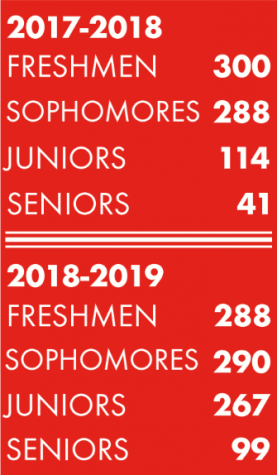 PARKING LOT
With the extensive increase in the student population came a large number of additional student drivers.
On the first day of school, the number of available parking spots slowly started dwindling. With all of the sports construction happening for the facilities, supplies used for the construction are stored in the far lot thus decreasing access to a number of spots.
Once construction is done, another 305 parking spots will allow for enough spots for registered cars. Until then, finding a place to park will be difficult, forcing many to park in the teacher's parking lot.
Similarly, Schmidt said, "I come to school at 8:15 just to get a good spot."
But Schmidt also has Kirkwood classes that he leaves school to attend in the afternoon. Many students who have morning Kirkwood classes continue to complain that there are never any parking spots for them in any of the main parking lots.
Baldes has to park in the teacher's lot because of the unavailable parking spots in the student parking lots once she arrives.
Students aren't the only ones that are affected by this. Teachers are also now having to search for spots because of the lack of space.
Many teachers are learning that to get a spot, they need to arrive early. Most teachers arrive at 7:45-8:00 now, so most are able to find an available space in the teacher's parking lot, but the teachers who can't show up early have a hard time finding a spot.
Not only is finding a parking space hard but leaving the parking lot can be just as unorganized.
Students rush out of classes, down the hallway, and out the door just to beat everyone to their car and leave before the influx of traffic.
Leaving the parking lot takes quite a bit of time.
"Things get backed up and it takes about 10 minutes just to get out of the lot because of the number of kids out there," said Piper Koski, junior.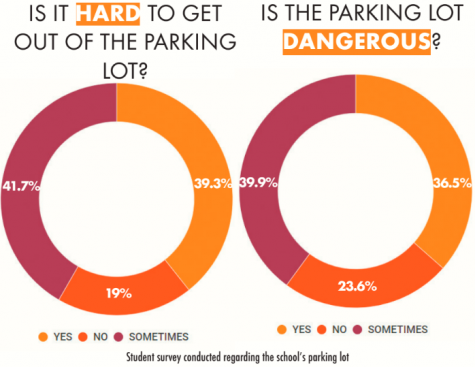 TEACHERS
The incoming addition of new students came with a demand for more teachers. A variety of teachers were hired in every department, from English to Art.
"They staffed us on 950 kids and we have 953, so we did pretty good," expressed Kibby.
While some teachers came from Iowa City West High School, others came from an assortment of other schools. There were also some teachers who went from part-time to full-time to compensate for the growth of Liberty.
As Liberty High continues to add new students every year from the various junior highs, Liberty may continue to hire more staff depending on how many more students are added each year.
"Liberty will have to hire more staff next year, whatever our number of kids is at next year. We'll have to hire probably everywhere," responded Kibby.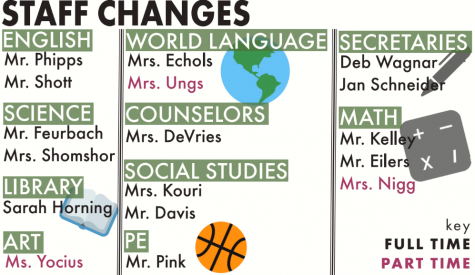 ADDITIONS
To accommodate for the rising numbers of students, the school had to add more lockers throughout various hallways as well.
"There were 99 lockers added this year and altogether it comes to 1,001," said Bryan Donohoe, head custodian of Liberty.
The Iowa Prison Industries built and installed the lockers in the Art and Music wing which are the E-hallways and D-hallways. Seeing that not everyone uses their locker, some found it a waste to keep adding more.
"I don't think there needs to be more lockers. I believe there should be a debate or option for the students to decide if they want to use their lockers," said Baldes.
According to Donohoe, this was not the end of a locker addition.
"I think we will have to add even more lockers because they are adding phase three, which is the addition going on the east side of the school but if the kids don't want the lockers then they will have to figure it out," said Donohoe.
Phase 3:
As of 2018-2019 Liberty High School's capacity is 1000 students. Therefore, the district plans to start the addition onto Liberty for the future Bolts this May.
"Where the academic wing is, where it makes a U shape, we're going to close it off and make it a square. That will add up to 21 classrooms which are 500 more seats. The classrooms will be a mix of different departments depending on what we need when the year comes around," said Kibby. "That's what we call phase three. As part of phase three, we will get another parking lot out there on the other side of construction."
Students think that phase three will be helpful with the school not being as crowded, but also help direct parking and to spread it out more.
Schmidt says, even though he won't be here to experience the addition of the building, "It's definitely going to help the school. I feel like it'll help direct traffic over there."
Gallegos agrees with Schmidt. Even though she doesn't drive yet, the thought of the new addition excites her as well.
"I feel like it would be a lot easier for people to get around and that the school is going to be bigger, it's exciting,"said Gallegos.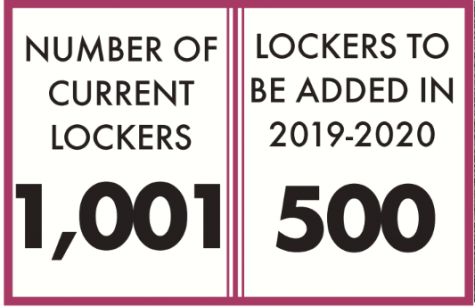 About the Writers
Haley Wojciechowski, Business Manager
Haley Wojciechowski is the Business Manager for both yearbook and newspaper this year. Her love for reading, writing, and telling the untold stories has...
Hannah Siems, Reporter
Hannah Siems is a new member of The Live Wire staff. She loves being outdoors and with friends. Hannah also enjoys taking and editing photos. She joined...