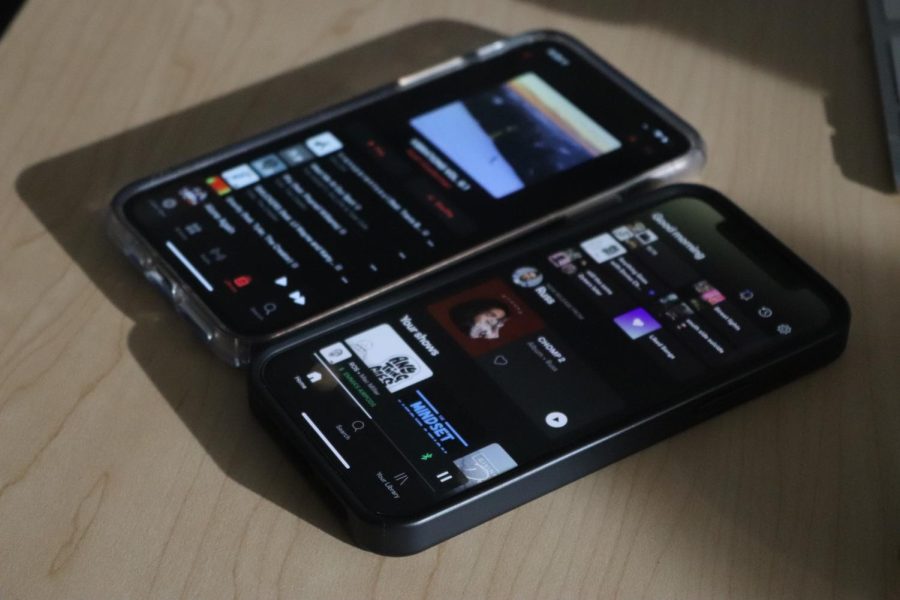 Noah Klosterman
When talking about music streaming services, there are two main ones that come to mind. Apple Music and Spotify. These platforms are two of the most popular streaming services in the world. Although these platforms are alike when it comes to music, there are some major differences between them. Spotify was launched in 2008 and has over 70 million songs and more than 3.2 million podcasts. Today, there are around 381 million users using Spotify. Apple Music was released in June of 2015 and had 11 million users in their first year as an app. As of June 2020, Apple music had around 72 million users and generated approximately 4.1 billion dollars in revenue.
The main difference between Spotify and Apple Music is that Spotify is free with ads while you have to pay for Apple Music. Spotify does have an option to listen ad free and that basic subscription costs $10 a month, $5 for students. Apple Music also shares these same prices for their services. Each service allows a three month free trial and both have family plans for up to six people. The difference between the family plans is that Apple Music's family plan is $15 a month while Spotifys is $16, which isn't a big difference but is still notable. Spotify also offers a duo account for two people who live in the same household for $13 a month.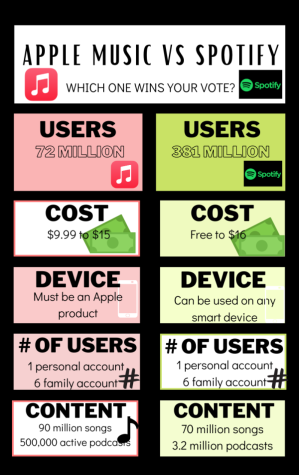 These two streaming platforms are the most commonly used by Liberty students. Liberty senior Emma Johnson has used both platforms and shared her opinions about these two apps.
"I used Apple music for two years and recently switched to Spotify. I really like Spotify's feature that displays songs that you might like and you can automatically add it to your playlist. It [Spotify] always has daily mixes for all your music preferences. Apple Music didn't have that and you have to use a separate podcast app to listen and while on Spotify, you can listen on the same app which is nice," she explained. "I have a duo account with my friend and I like being able to listen to each other's music and playlists and we can also collaborate and make our own joint playlist."
The debate between which app is better has been a hot topic since both platforms were released. Trista Spies, senior, uses Spotify on the daily while Noah Klosterman, senior, uses Apple Music.
"As someone that has used both Spotify and Apple Music, I found thatwhen using Spotify, I easily misheard or forgot lyrics to a song," said Klosterman. "When using Apple Music, I'm able to see the automatically synced lyrics with music so I never forget or mishear lyrics. In addition, I own an Apple TV and with Apple Music, I am able to seamlessly cast my music to my Apple TV and sound system with one press of a button. I also own Airpod Pros and they have spatial audio that gives you a new way to experience music like you've never had before. Music sounds like it's traveling around you and it follows your head so it sounds like you're in a concert. Spotify users may argue but what about Spotify wrapped? Spotify wrapped isn't something just exclusive to Spotify, there are apps on the App Store such as SND.WAVE  and Apple Music replay that give you the same experience and even more stats."
Spies' opinions on Spotify greatly differ from Klostermans.
"I use Spotify and I think it's more fun than Apple Music. The graphics are really nice and I like getting my Spotify wrapped every year. I also listen to podcasts on Spotify and I feel like there's more available content," she said.
Although there are many other streaming platforms, these are the most popular. There are alot of different features that the apps have to offer that go into consideration when deciding which streaming service you decide to use. Currently, Spotify beats out Apple Music in a lot of its features but that's not to say that Apple Music couldn't someday overrule Spotify.
Cast your vote for which music app you prefer to us here: