A Home Away from Home
A look at the lives of Ifada Auzan and Lavinia Wu, two international exchange students spending their academic year at Liberty.
Ifada Auzan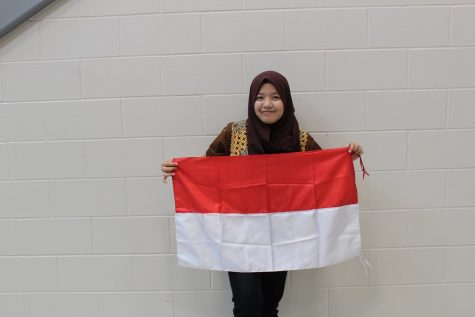 After a normal day at school, high school senior Ifada Auzan walks the short distance from the bus stop to her home and goes up to her room. Before going downstairs to prepare the traditional Indonesian dish of Indo-mei, she tosses her backpack near her bed like a second habit developed after years of repeating a routine.
In reality, the 17-year-old exchange student has lived here for a mere two months, but the relationships she's developed with her host family and friends suggest otherwise.
"It's like she's always been a part of the family," Dhuha Tawil, Auzan's host mother, said.
Auzan grew up in Palembang, a city located in the province of South Sumatra in Indonesia. She chose to be an exchange student three years ago and began the lengthy application process soon afterwards.
As a participant of the YES program, Auzan acts as an ambassador for Indonesia. For many of the people she's met, Auzan is the first Indonesian person they know. Auzan prides herself in her role as a representative for her country, answering all questions about her life, culture, and religion.
As part of her stay in the United States, Auzan is living with a host family, consisting of two parents and a younger brother. Auzan hopes to work with children in the future, with a dream of ultimately working for UNICEF, the United Nation Children's Fund. Having a younger sibling only reinforced her hopes, and helped prepare her for a future in that field.
"Having a little brother increased my communication with kids," Auzan said. "In Indonesia I didn't have any little brothers or sisters. I was the youngest, so I didn't have a lot of communication with babies."
Dhuha Tawil, Auzan's host mother, knew she wanted to host exchange students years ago when she befriended an Indonesian exchange student she had met through her mosque. She noticed the student was having a hard time during Ramadan, an Islamic month consisting of increased faith and fasting. She vowed that in the future she would make sure she would host students and that regardless of their religion, they would feel likey they belonged. As fate would have it, when Tawil decided to host a student a few months ago, she was matched with Auzan, a Muslim-Indonesian high school student much like the one she had met years ago.
Auzan is always eager to teach others about her home and its culture. As a requirement of the YES program, she will have presentations about Indonesian traditions in each of her classes and is currently in the process of preparing for these presentations. In her physical education class she will introduce her classmates to Indonesian sports and games, and in her art class she will wear and present traditional Indonesian attire.
Auzan hopes that through these presentations she will be able to share a piece of her culture with her peers.
Living away from family is not a new experience for Auzan. She attended a boarding school and lived in a dorm for her first year of high school and had grown accustomed to going long periods of time without seeing family. But being away from her friends in Indonesia has been hard, and so has adjusting to the cooler weather. However, Auzan is still excited for the new experiences that come with the new weather. She is especially looking forward to seeing snow for the first time.
Auzan believes that being an exchange student has given her opportunities to learn about new things that she would otherwise not have had the ability to learn about.
"[I became an exchange student] because I wanted to see the world, have a new culture, and have a new experience," said Auzan. "Because if you stay in your country, you do not learn about [new things]. Here, I learn something new everyday. It's really fun and you can learn about new experiences."
Auzan believes it's important to keep an open mind when learning about different cultures.
"America and Indonesia have really really different cultures," said Auzan. "If you learn about the culture, you can not have bad judgment."
She also had the chance to meet other exchange students participating in IRIS.
"I wanted to have a connection with the world because exchange students in Iowa are not just from Indonesia, but many countries," said Auzan. "So if I have a good relationship with them I will have a global relationship. Now I have friends from Jordan, Turkey, and America."
Lavinia (Yun-Yen) Wu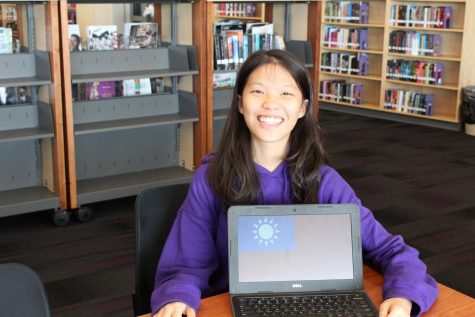 Imagine spending a year in a foreign country with a new family, attending a new school and learning a different language. What would you miss most? For Lavinia Wu, the thing she misses most from her home country of Taiwan is the traditional food. The change from the flavorful island food to the hamburgers and hotdogs common to Americans has been a difficult part of her transition to this new environment.
Wu is part of Education First (EF), an international organization that connects exchange students with host families. After completing an in-depth application, she was chosen to be one of the 115 Taiwanese exchange students studying in various countries across Europe and North America. She started applying to be an exchange student a year ago and received a scholarship from the Taiwanese government covering half of the expenses.
Listening to her older sister speak about her adventures during a year abroad in Texas, the then 13-year-old Lavinia Wu knew she wanted to be an exchange student.
"She said studying abroad was a dream," Wu said, recalling conversations with her sister.
Now 15, Wu is experiencing her own adventures as an exchange student at Liberty. She hopes to get the most out of her experience by being active at school. She was a team manager for the football team and joined a girls' club called G!World.
Her desire for immersion in this new lifestyle is not limited to school. From watching Friday night football games to going to church with her host family each Sunday, Wu is living the "typical American life".
Wu hopes that her time in the U.S. will improve her English. In fact, her desire to learn English was the main reason she chose to become an exchange student. As for the future, she hopes her experience as an exchange student will open opportunities for colleges as she starts to consider going to a university abroad.
About the Writer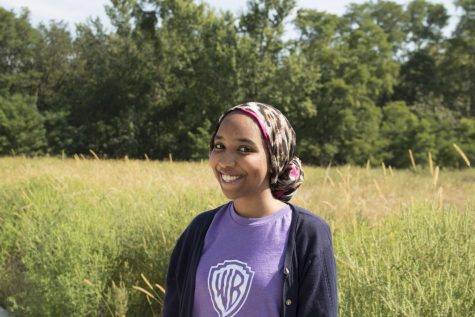 Razan Karar, Design Editor
Razan Karar is a junior and design editor for The Live Wire. When she's not designing, taking pictures, or writing articles, you can find her watching...