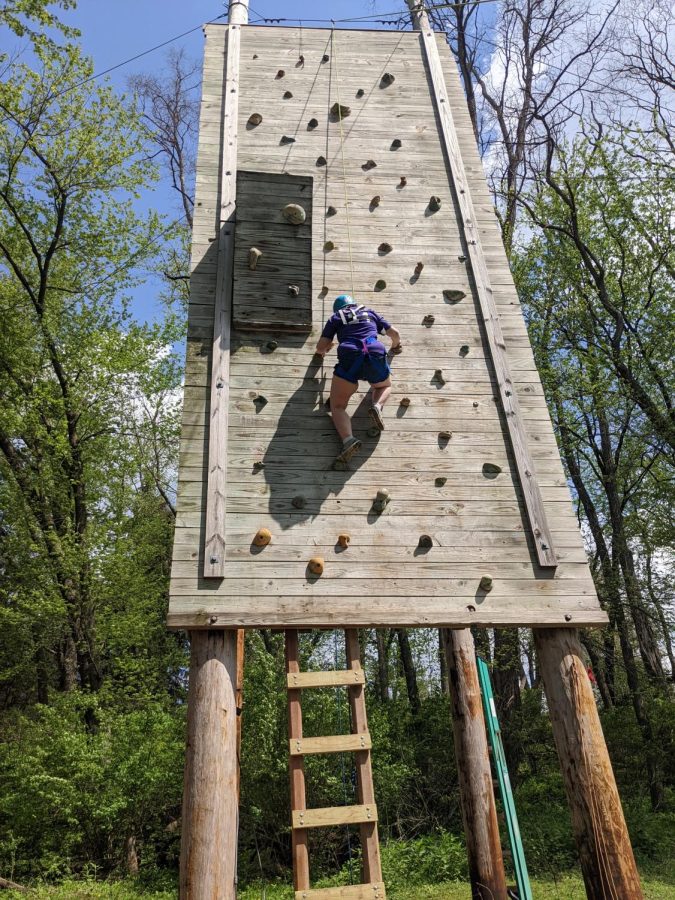 Courtesy of Kim Cranston
Some students from Liberty recently visited Camp Courageous located in Monticello, Iowa. Camp Courageous is a sleepaway camp dedicated to helping those with disabilities. Camp Courageous offers many activities to campers, and is a way for them to experience new activities and meet new people.
Camp Courageous' mission, as stated on their website, is to: "Provide exceptional year-round recreational and respite care opportunities for individuals with special needs and their families. The camp is run primarily on donations, giving all individuals the opportunity to give through gifts of time, materials, money, and other means that support the camp." More information on the camp can be found at the following website: https://campcourageous.org/about-us/. 
Amber Crow, assistant, explained her experience at the camp and their general itinerary. "We arrived on Wednesday and had lunch first thing. Then we started our activities: crossed a rope bridge, went up in a lookout tower, met some awesome animals (donkey, baby goats, sheep, a hedgehog, bunny, and guinea pigs), went bowling, went swimming and went to a sensory room. We cooked burgers over a fire for dinner. On Thursday we rode the train, climbed rock walls, did archery, went swimming, sensory room, arts and crafts. On Friday we fed the animals, went fishing, rode a zipline, and played games in the gym and had lunch before heading back to school."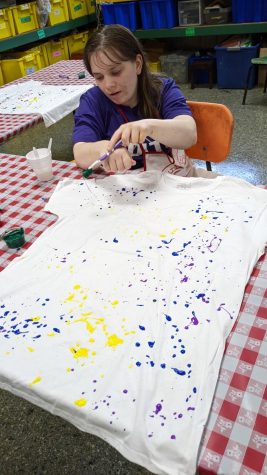 Because of the many activities they have planned, the camp days tend to go by fast.
"We had lots of planned activities that kept us busy from when we arrived on Wednesday until we left on Friday. We slept in cabins," explained Crow. 
Kim Cranston, advisor, also explained the activities they had planned: "There were activities all day long. The students got an opportunity to cross the Burma Bridge (walking on a wire with guide wires to hold on to), to go swimming, to climb walls (one indoor, one outdoor), to cool off in the Snoezel room (sensory room)."
The camp is designed to help students go outside of their comfort zones and try new things. The activities are built around safety, and are catered to individuals' specialized needs. 
"The camp is an inclusive camp designed for anyone to be able to participate. Mostly all of the activities can be modified to include students with varying abilities. They use the 'challenge by choice' motto so all students have the option of completing an activity, they are encouraged but not forced to do anything," said Crow.
Crow explained the student experience at the camp, and how they were able to try new things and break out of their comfort zone at camp. "The students and staff all had a blast. We stayed busy the whole time with fun activities! I think the best part of camp was seeing the students try new things. Some students were very timid when they first arrived, but they were willing to try the activities by the end of the trip. Watching them find their courage was incredible. It was so much fun to see them engaged and enjoying all of the activities during the whole trip."
Sami Cranston, junior and student helper, went to the camp this past weekend. They described their camp experience, and some of their favorite parts of attending the camp.
"The camp counselors help the kids do what they might not be able to do at their regular camp," explained Cranston. When asked what their favorite part of camp was, they commented: "trying everything and seeing friends I have made at camp." 
Sami has been to Camp Courageous before, and explained how they added some new activities and features this year: "Climbing activities both indoor and outdoor, barn onsite to learn what the animals eat. Did some swimming and laser tag. They have added more accessibility than they had two years ago- pond for fishing, added ziplining this year."
Kim Cranston went along on the trip to assist and oversee the students. She explained how they all had a great experience: "Everyone enjoyed camp. There were many smiles and lots of memories made. Many of our students have never been away from home. Camp Courageous has respite weeks and weekends so this way for the camp counselors to develop a relationship with each student. This helps in future visits. Every activity is by choice and no one is pushed to try something if they don't want to. It is amazing to see the students gain confidence during the three days."
Camp Courageous' vision is to empower those with disabilities to gain confidence, and to try new things. It is a great program, and helps to create a sense of community for those who sometimes feel isolated. Liberty is very lucky to have the opportunity to send its students to their camp, and to experience the encouraging environment that Camp Courageous offers.