Vape Detectors At ICCSD
Over the summer, ICCSD made the decision to install vape detectors in their high schools. What will this mean for Liberty?
On September 16, 2022, Liberty joined West, City, and Tate in installing vape detectors in their restrooms.
The objective of this 350,000 dollar project is, "To provide an additional deterrence and support our work in educating students on the dangers of vaping, vape detectors have been installed in the bathrooms of each of the high schools across our district," according to a newsletter Liberty sent out earlier this month.
With vaping and e-cigarette use being a nationwide health problem amongst teens, this project seems like a no-brainer. According to the CDC, an estimated 11.3% of high school students reported current e-cigarette use, with 27.6% of those users reporting having used e-cigarettes daily. Not only is this a problem nationwide, it's also been a problem at Liberty.
"[About] 50% of our behavior discipline referrals have been about vaping," states Principal Justin Colbert.
The HALO Smart Sensors uses airflow to detect the use of nicotine, it's also the only vape detector that can detect nicotine and THC oil. When the detector is set off, the proper staff members are notified of the location of the bathroom and can deal with the situation.
"[When it's set off] we would get on the radio if any staff members are nearby to be able to get to that restroom literally right when the student comes out, and if that's not the case… we would get on the cameras to review the footage to see who it was," says Colbert.
The usage of e-cigarettes isn't just a behavioral concern and shouldn't just be treated as such. Nicotine is highly addictive, especially among teens.
In regards to getting caught, Colbert emphasizes that "[The] conversation we have with them a lot of the time, is 'do you have a problem?', 'do you feel like you're addicted to it, and if they are willing to speak with somebody or if they're willing to be set up with resources or support, then we would make that connection for them."
The district hasn't yet announced that the detectors can also detect 'Aggression' by, "…[learning] what normal sounds are and alerts when a threshold above normal is detected for a specified amount of time," according to HALO.
This feature is supposed to make it easier for the administration to prevent fights and instances of bullying in the restrooms.

As this is a fairly new thing in the Iowa City Community School District (ICCSD) and students, staff, and parents weren't originally given all this information, there hasn't been much feedback. However, as schools across the country have been installing the detectors, many people question if these types of detectors interfere with students' privacy.
"
We knew it was happening, we knew people were doing it in the restrooms, and of course, at school we are under the belief that doing an illegal activity at school has the potential to become a disruption.
— Principal Colbert
The American Civil Liberties Union (ACLU) believes that surveillance in schools shouldn't be used in certain situations.
They believe that schools shouldn't use "surveillance technology to monitor students for engaging in relatively innocuous rule-breaking behavior," Chad Marlow, ACLU Senior Advocacy Counsel, told TCPALM.
It's common for students to cause some type of ruckus in the bathrooms, even though it's obnoxious, it's mostly harmless. This raises the question, will the detectors be used to punish these harmless behaviors?
It's uncertain how effective this method will be, or even how it would play out. What we do know, however, is that the illegal use of e-cigarettes frequently occurs in high school bathrooms.
"We knew it was happening, we knew people were doing it in the restrooms, and of course, at school, we are under the belief that doing an illegal activity at school has the potential to become a disruption," says Colbert.
About the Contributor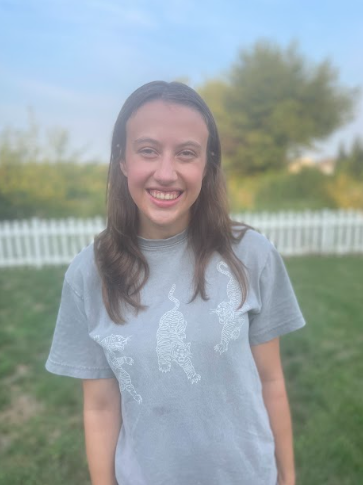 Megan Quinn, Editor-in-Chief
Megan is a senior at Liberty. This is her third year on staff and she is the editor-in-chief for the 2023-2024 school year. She is involved in theatre,...