2022 Governor Election
On November 8th, 2022, Iowans will join the rest of the country in midterm voting. With all 435 seats in the House of Representatives and 34 senators' spots up for grabs, the 2022 midterm elections will determine how the country will be run for the next two years.
Iowans will vote on the Senate, four house seats, and the governor. The Senate and the House seats will have a wider effect outside of Iowa. The governor race, however, will largely decide how Iowa will deal with hot-button issues such as abortion, marijuana, and much more.
As a born and raised Iowan, Governor Kim Reynolds has been in office as Iowa's first female governor for about five years. In 2017, she was the lieutenant governor under former governor Terry Branstad but was later put into office after Branstad left to become the US Ambassador to China. She has been reelected every term since. She is a prominent figure and leader in the Republican party, giving the Republican Response for the State of the Union address. According to her official website, her top priorities are 'cutting taxes for Iowans,' 'providing educational choice and transparency to Iowa families', and 'making Iowa an employment destination.'
Many Democrats are anxious to get Governor Reynolds out of office. Since the overturning of Roe v Wade, reproductive rights are up in the air for Iowans. As Governor Reynolds plans to reintroduce her 2018 'Fetal Heart Beat' Bill which would outlaw abortion at six weeks.
Unlike Reynolds, democrat nominee Deidre DeJear has less of a political presence. Starting off as a basketball coach for East High School and then supporting over 1000 small Iowa businesses, she has experience in the inner works of Iowa local businesses. According to her website, "Small businesses, the backbone of our economy and small towns, are worth the investment and support; as I have done throughout my career."
As elected her main priorities as governor would be providing more funding to public schools, codifying reproductive rights, and legalizing and regulating cannabis use.
On October 17th, Governor Reynolds and Dejear took the stage and debated for the first and final time. One major theme of the debate and the idea of choice. School choice, abortion, and tax cuts were the major issues that were discussed during the debate. Governor Reynolds went straight into the accomplishments and programs that were established under her as governor, while Dejear questioned the effectiveness of those decisions.
Before this debate, a recent poll by The Des Moines Register shows that Governor Reynolds is still leading Dejear by 17%, the same percentage as this summer. However, that can easily change as Dejear got the chance and media coverage to showcase her positions on issues and how she differs from Governor Reynolds.
Democrat, Republican, or anyone in between should get out and vote in this upcoming election. If you are 17 by November 8th, 2022, you can register online or at your nearest voting site.
About the Contributor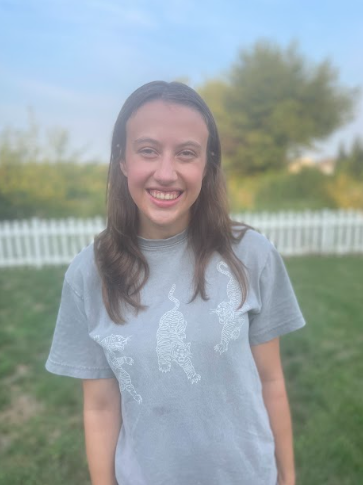 Megan Quinn, Editor-in-Chief
Megan is a senior at Liberty. This is her third year on staff and she is the editor-in-chief for the 2023-2024 school year. She is involved in theatre,...