Crowd Crush: Itaewon
What happened in Itaewon, South Korea, and what can people do to stop events like this from happening again.
On Oct. 29, over 156 people died in a crowd crush in Itaewon, a district in Seoul, South Korea, during a Halloween party. Many more were severely injured and currently reside in South Korean hospitals under medical care. 
2022 was the first year since COVID-19 restrictions were lifted on the annual party. Costumed people came in remarkable numbers for the largest Halloween celebration in Seoul.
The fatalities consisted of a variety of people, from over a dozen countries. The countries of the US, China, Iran, Thailand, Sri Lanka, Japan, Australia, Norway, France, and more have made statements about citizens that were among the dead. Authorities have identified 56 women and 97 men from the chaos. Any other victims remain unidentified for the time being. Two of those identified were US citizens, three were South Korean military personnel, three were teachers, one K-Pop idol from season two of "Produce 101," and six South Korean school students were identified from the masses of the deceased. Of the two US citizens among the dead, one was Anne Gleske, who was a junior at the University of Kentucky and had been studying abroad in Seoul for the trimester (CNN).
People were packed shoulder-to-shoulder, and rows upon rows of people laid dead in the streets with tarps covering them. People even resorted to scaling buildings for safety (CNN). There was screaming, crying, violence, pushing, and shoving in the crowds. There was little-to-no crowd control due to many factors including confusion regarding the costumes and whether or not the people yelling were actually police officers or people dressed up as them.
Not everyone died instantly, according to CNN. The people who died were receiving CPR with their costumes ripped off. People tried to let medics race to the situation, yet most weren't able to reach the injured because of the volume of the crowd.
South Korea held a mourning period for the now-named 'Itaewon Tragedy' until November 5th. Public offices and institutions flew their flags at half-staff during this time, and many people wore black ribbons as a symbol of mourning for the victims. In the district, there remains a building with costumes, shoes, bags, and other personnel of the deceased for their families to pick up. The building has been overflowing with families, mourners, and hundreds of items from the deceased.
K-Pop boy group ATEEZ, at their latest live performance, also wore black ribbons in solidarity. Many other K-Pop idols and companies alike have postponed or canceled their music releases and activities because of the recent tragedies in Itaewon. 
The Itaewon Tragedy has been one of the worst disasters seen in South Korea, and the world's worst crowd crush in decades according to Reuters. The crowd was ten times larger than any other holiday celebration in Itaewon. The celebration had already been marked with warnings about the dangers that would come with the influx of people before it even started, yet the lack of crowd control was astonishing (CNN). People were locked up in bars and separate buildings due to the government issuing that anyone in the area should stay indoors until the surge had calmed down. The crush continued for hours, with people falling down the hilly streets like dominoes.
Compressive asphyxia takes place when external compression constricts the lungs and bars oxygen from entering the body (Lippincott). This is how the people at Itaewon, Astroworld, and other crowd crushes die. These crushes occur at dead ends, locked doors in tight spaces, etc. Crowd crushes are unpredictable but can be prevented. 
First, crowd control is a must. Police officers or military personnel should be available at these events to help with crowd control. 
While outside resources can help with making these events safer, sometimes, it lies in the hands of the individual. If in a situation where you're stuck between four people on all sides, or forcefully pushed up against other people, you're in the middle of a crowd crush and need to get out. Crowd crushes are fluid. They don't disperse, they move in one direction, like being rocked around on a boat at sea. Once in a crowd crush, there are very few opportunities to escape. If the crowd starts to move, then that is another sign that you need to get out. If you find yourself stuck in a crowd crush with no way out, then you must keep moving (theConversation). Don't push forward or backward, just keep walking until you find a way out. 
These are the steps people need to take in order to stay safe and to keep situations like what happened in Itaewon from happening. Even one person's knowledge can save many lives and could prevent crushes like the one in Itaewon.
About the Contributor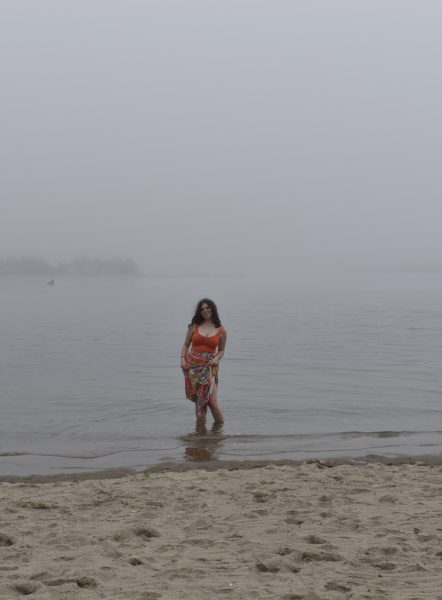 Addison Pirkl, Website Manager
This is Addison's second year on staff as a Website Manager, and she spends most of her time drawing, writing, and having her nose stuck in a book...