The Underdogs
This year the Liberty football team worked hard to have a record breaking season. They look forward to improving more for years to come.
For the first few months of the 2022 school year, there was nothing quite like "Friday Night Lights" after a long week of learning. Liberty students and the community enjoyed supporting the football team each Friday, home or away. The football team showed out this year, becoming district champions and finishing with a 9-2 record for the season. Compared to last year with a 3-6 record, the Bolts came in hot. They showed that they were not to be messed with this year.
The season started out strong for the team. Their first game was highly anticipated. Not only was the game held at Kinnick Stadium, but it was also against their crosstown rival, City High. This was the first high school game held at Kinnick since 1980, and approximately 10,000 people came to watch Liberty win 36-19.
For Gavin Benton, 11, varsity player, the Kinnick game was an unforgettable experience.
"My favorite memory from the season had to be beating City High in Kinnick Stadium. We went in as underdogs and nobody expected us to go out and beat them after losing 41-0 last year,"  he said.
"
My favorite memory from the season had to be beating City High in Kinnick Stadium. We went in as underdogs and nobody expected us to go out and beat them after losing 41-0 last year.
— Gavin Benton, 11
This win put the team in a good mindset for the rest of the season. However, it took a lot to get to this point, a lot of time and energy went into it.
James Harris, Liberty's varsity football coach, started coaching the team last summer. He had limited time to get to know the staff and players. After the first year, the team had more time to get to know each other and create a stronger bond.
"I think the difference [between Harris's first year and his second year] was having a full year to build relationships with players and coaches and a full year of work with the players in the weight room," Harris said.
The players also appreciate how Harris has impacted the Bolts' program in such a positive way.
"I think Coach Harris helped build our team dynamic because he seemed to treat us like we were his friend and that made us more comfortable with him," said Benton.
Football is a team sport. The more relationships and time the team has together, the better. Wyatt Williams, 12, a varsity player, also saw that the team dynamic change had a positive impact on the outcome of the season.
"I think what changed the most was that there was a leadership presence and [how] everyone on the team had the same goal. This year we truly had a bond that was like a family, and each and every member of the football team was a part of it.  I think that's what separated us from last year's team," he said.
Many people don't realize the amount of hard work that goes into football. The team spends countless hours a week weightlifting, attending practices, and viewing films.
"We had a tough year in 2021, but our players, particularly our upperclassmen, fully bought in and committed themselves to the weight room all year and were then fully committed to our summer practices.  We committed to what we could control and we stayed consistent stacking days of quality work," Harris said.
Harris believes working hard every day is the secret to winning; and he makes sure his players know that as well.
"Coach Harris preaches a lot about 'buying into the process', and I think that we all bought into the process. We had lots of off-season morning lifts, summer camps, and practice," said Benton.
The 2022 season came to an end; however, the work for next year has already begun. Although there will be quite a few seniors leaving the team, their contributions will continue to have an impact for many years to come.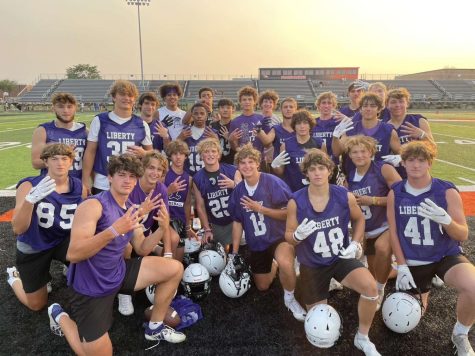 "As stewards of the program, the seniors did a great job and are leaving the program in a better place," said Harris.
The team went far into state playoffs, but Harris thinks the team has a chance of making it to state next year.
"We need to continue to improve up front on both sides of the ball. I thought we took a big step forward this year, but in order for us to earn the opportunity to play up at the UNI dome we need to be physically dominant up front on the O & D lines. We need to continue to commit to the controls of training, diet, rest, and having a 'day in-day out integrity' in our process," added Harris.
The team worked hard this year, and their effort was shown on the field. Continuing down this path, there is a great chance of another good season with the prospective talent still here at Liberty.
"Anything we do next year will come down to how hard we are willing to work, how much we are willing to sacrifice, and how much we are willing to come together as a team. It takes what it takes," concluded Harris.
About the Contributor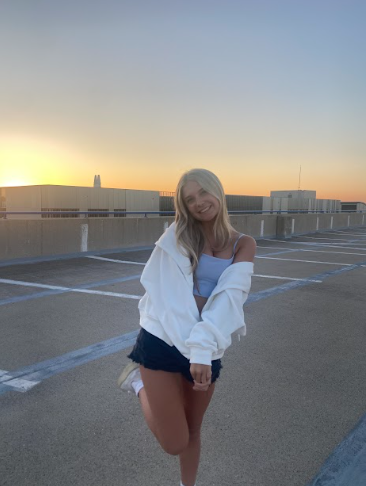 Jocelyn Klein, Reporter
Jocelyn is a senior at Liberty and this is her third year on the newspaper staff. She participates in numerous sports that she would not like to name....