'Bethel Park Falls' Review
Liberty's Student Led Acting Productions (SLAP) put on 'Bethel Park Falls' from December 16th to the 17th.
What's the best way to spend your Friday night? Going to see a show of course! I went to the opening night of 'Bethel Park Falls,' put on by SLAP (Student Led Acting Productions). I was a little nervous about going on opening night, because, as a theater kid myself, I know opening night can be a little messy. However, from an audience point of view, the actors seemed very ready and prepared.
'Bethel Park Falls' directed by Abby McNeely, 12, and Andrew Kaczka, 12, was in the same structure as last year's SLAP production 'Almost Maine.' There were nine interconnected scenes with each featuring two of the 17 characters. What I liked better about this production was that throughout each of the different scenes you started to piece together how the characters and storylines were connected.
The set of 'Bethel Park Falls' was very simple, just some trees, bushes, and benches. However, the set was used effectively.  Every time the narrator (Isaiah Nicholson, 12) would come out, he would change the lights on the tree, or even put some leaves on the ground to display the different seasons and timelines. This made the narrator seem like this 'higher power,' and it definitely gave the play a more mysterious feel to it.
All the scenes had vastly different touches and characters to them, so it didn't feel like I was watching the same thing over and over again. However, I felt like some of the scenes were too long, and they started losing their 'freshness.'
'Bethel Park Falls' tackled issues such as suicide, addiction, and even death, but it did have its fair share of humorous moments.
The most entertaining scene had to be the one with Dawn (Miriam Terwilleger, 10) and Garnet (Adrian Duffy, 12). Garnet, dressed in a bright green shirt and funky pants, meets Dawn at a running race. They soon find out that they were stalking each other, and Garnet confesses his love and desire for Dawn, who he just met. The ridiculousness of it and the subtle awkwardness of Garnet made the scene hilarious.
All of the characters were adult-aged, but they were played by high schoolers. At times, I didn't really believe that they were playing adults, which made some of the scenes a little awkward.
As a person who has acted in plays, there were definitely some performances that really stood out to me.
Tiegan Keel, 12, and Sean Keene, 12, who played Holly and Glenn, portrayed two tired parents expressing their annoyance with their lives and kids. This role would be hard for most high schoolers to portray, but Keene and Keel did it perfectly. Even though they were just talking on the bench for most of their scene, they still kept my attention throughout.
As we got to the end of learning about all these characters, we soon find out that the narrator was actually one of the character's grandfathers who had Alzheimer's. Which really made you think about the play's meaning. For example, was this narrator actually reliable?
Overall, 'Bethel Park Falls' was extremely well done. The SLAP cast and crew did an incredible job bringing the show to life with what they had.
About the Contributor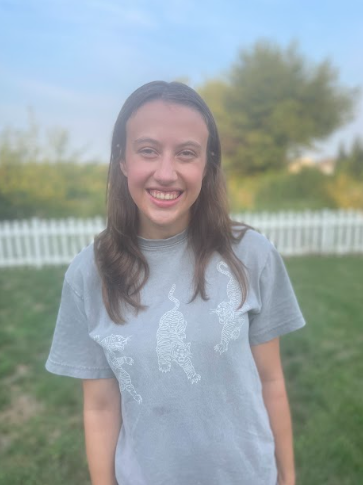 Megan Quinn, Editor-in-Chief
Megan is a senior at Liberty. This is her third year on staff and she is the editor-in-chief for the 2023-2024 school year. She is involved in theatre,...