BLSU: Leaving Their Mark on Liberty
Liberty's Black-Latino Student Union was once composed of a few students looking to create change. This year, the group's numbers have grown, and its impact is only getting stronger.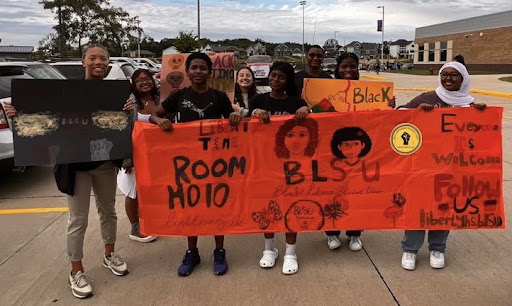 Going to a school with a small minority population, Black and Latino students at Liberty are presented with many challenges that often go unheard. Liberty's Black-Latino Student Union (BLSU) creates an impactful space within the school to combat this, where students can share their experiences and work on projects that are meaningful to them.
"Last year, there were some seniors who led the charge by having a sit-in at lunch time, so students could talk about what they were experiencing in school. From there they decided to establish a Black Student Union," states Malyssa Oblander, a Spanish teacher at Liberty. "They had asked me to be the advisor because they wanted to make sure it remained a student-led organization, they just wanted support."
The union started with only a couple of members, including Plameldy Matiyabo, Shay Church-Roberts, Kimberly Cruz, Kufre Ituk, and Fatima Musa (all 2022 Liberty graduates). Although small, the group achieved a lot in its first year and was successful in laying down an important foundation for the club. BLSU members led a panel on MLK day last year to have a discussion surrounding the Black community with their classmates. Alongside this, they hosted a talent show, and decorated classroom doors around the school for Black History month.
Oblander explained, "[It was] a few people [at the start], but they really did things… But [with so few members], there was a lot of pressure on them to do a lot."
"It was such an honor to be at the beginning of it. It was empowering being in that room with like-minded individuals. It was small, so we were all very close… We went beyond a community, we were family," explained Ruth Luyeye, 11, a co-leader of BLSU. 
Now, BLSU leaders hope to build on what its founders started with the support they've garnered in the past year.
"We [originally] had very few people, maybe six or seven, and now thankfully we have so many members. I think around 30 or 40 people," described Mozn Elfaki, 12, another co-leader of BLSU.
BLSU meets most Fridays during Liberty Time, where members have the opportunity to get to know peers with similar experiences and interests as them. Currently, the group is working on making merchandise for supporters to buy.
"As of right now we're working on t-shirts that we plan on selling at events," Mozn said. 
BLSU is collaborating with 'Humanize My Hoodie' to make their shirts, a fashion movement based in Iowa City that works to uplift young minorities and increase racial equity.  A leader from the organization is currently coaching BLSU students on the graphic design process. 
All of this work goes towards creating a positive space for Black and Latino students at Liberty. This year, the club has done a showing of "Hellboy," a film by Mexican filmmaker Guillermo del Toro, to educate students on Latino success during Hispanic Heritage month. Members also decorated Liberty's cafeteria windows to celebrate the month. The club's future projects will provide further insight into Black and Latino issues, as well as the community's many accomplishments.
"This club is for people to be heard. Previously, I don't think a lot of minority students were heard here at Liberty. They just felt left out in so many things. The main goal is to have all sorts of minority students come in and feel welcome. It's a safe and inclusive environment for them," explained Elfaki.
"
BLSU, for me, is the place where I don't have to be a minority. It is a place where I am free, and not reminded that I am Black or Muslim or whatnot. I am just me.
— Mozn Elfaki
Everyone is welcome at BLSU's meetings, and all are encouraged to attend the club's events to show their support and help the club continue making an impact on the lives of Black and Latino students at Liberty. 
"Show up, that's the best thing people can do. If you don't have anything to do, just come support. Whether that be through donations or by just being there," said Jaime Soto, 11, a co-leader of BLSU.
With its growth this year, BLSU has become an important part of Liberty's culture.
Elfaki concluded, "BLSU, for me, is the place where I don't have to be a minority. It is a place where I am free, and not reminded that I am Black or Muslim or whatnot. I am just me."
About the Contributor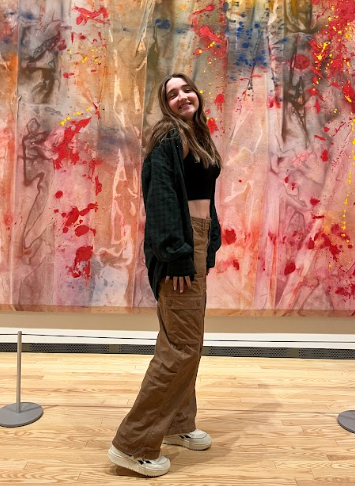 Piper Kearney, Copy Editor
Piper is a senior at Liberty and this is her second year on staff as Copy Editor! She plays softball and participates in Liberty's art club. When she's...