Houses Into Homes Makes an Impact
Houses Into Homes is working to furnish homes for families who are struggling in the community.
Johnson County offers many volunteering opportunities for high school students. Volunteering is a great opportunity to make friends, learn how to be a leader, and develop lifelong skills to use in future employment opportunities. 
Many students at Liberty strive to receive the Silver Cord when they graduate from high school. The requirement to earn this cord is 200+ volunteer hours over the course of a student's 4 years in high school. This is an attainable goal, averaging out to be about 50 hours a year. 
INSHOC (Interacting Students Helping In Our Community), is a club at Liberty focused on being a positive force in the Liberty community. Run by English teacher, Peggy Dolson, INSHOC is a way for students to learn about service opportunities through our school. 
INSHOC works with a variety of nonprofits in the area to give students volunteer opportunities. One of these organizations is Houses Into Homes.
Lucy Barker, Director of Development at Houses into Homes stated, "Houses into Homes provides gently-used and donated beds, furniture, and household items to individuals and families in the Iowa City area (Iowa City, Coralville, North Liberty, Tiffin, and Hills) who are exiting homelessness, domestic violence, and other crisis situations."
Many Liberty students have volunteered at this organization, and Houses into Homes has greatly benefited from this help. 
"High schoolers have always been an important part of our work. A group of Liberty High freshmen started volunteering with us in October 2018, and they volunteered with us for much of their four years of high school. They showed up nearly every volunteer day for the first few years, helped us move storage spaces, and even gave up a Friday evening to furnish a home for a family going through difficult circumstances," said Barker. 
Transition about how students continue to be an important part of the organization or something
"We have had high school students from all over the area donate their time and muscle to help us provide the basic comforts of home to our friends and neighbors. Many students help with deliveries, but we also have students who volunteer in the warehouse: painting, cleaning, organizing, and more," Barker said.
Having a safe space to call home is so important, especially for families with children.
"Salina (Co-founder of Houses Into Homes) shared a video on Facebook of a child receiving a bed. I saw it and together we started asking whether there were children in our community who were sleeping on the floor. The answer was, and still is, yes. We decided to start collecting donated beds and providing them to children, and the organization has only grown from there. We now provide full furnishings — furniture for the bedroom, living room, and dining room; kitchen and bathroom items; toys, games, and books for kids; and more," said Barker.
Starting in 2018, Houses Into Homes has grown into a successful organization, helping thousands of people furnish their homes. It has also been a great place for students at Liberty to earn volunteer hours, all while learning valuable life skills. 
"We are proud to be a place where people of many different ages and abilities have found a meaningful way to give to their community," stated Barker.
About the Contributor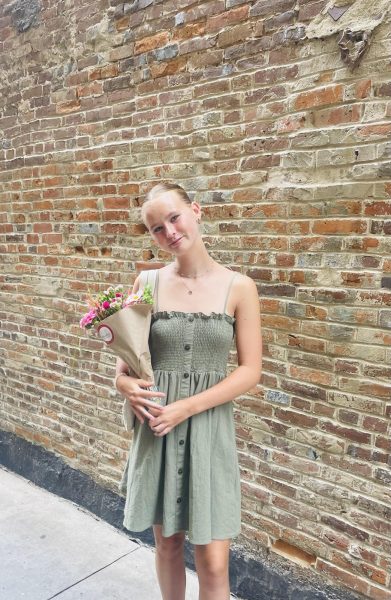 Madelyn Johnson, Social Media Manager
Madelyn is a Junior at Liberty and is a Social Media Manager for The Live Wire. This is her 3rd year in journalism, 2nd year on staff. She runs cross country...