The Serious Side of Sports
Bills player, Damar Hamlin, suffered a scary injury that put a light on sports injuries. Liberty has dealt with its fair share of injured athletes.
The NFL had a heartstopping moment on Jan. 2, when a Buffalo Bills player was tackled, and didn't get up. This halted a Monday night football game, spreading fear across the US. In a play that was repeated and analyzed several times, Damar Hamlin, a safety for the Bills, fell backwards after colliding with Cincinnati Bengals wide receiver Tee Higgins. Hamlin suffered cardiac arrest in the middle of the field as both teams had to stand and watch him receive CPR for eight minutes. He was ultimately rushed off in an ambulance. With a seemingly clean tackle, many fans were confused as to what happened. It was not until Friday, Jan. 6, when Hamlin began breathing on his own.
As common as it is for athletes to get injured, the extremity of Hamlin's injury shed light on the danger of sports. Usually, with football, head injuries are the most common, but this case showed that the rest of the body is also at high risk. It is apparent that injuries are a part of sports. There is a risk people have to take when choosing to play, but it seems like sports injuries are always happening. Most schools now have trainers on standby, but some schools also have ambulances and medics ready for selective sports. 
Anna Manternach, Liberty's athletic trainer, sees athletes with injuries every day. 
"I think the kind of injuries I'm seeing today are a little different today than when I first started working in high school athletics. I think many of the injuries I see now stem from overuse or a lack of adequate rest and recovery. The soft tissue injuries remain the most common injuries sustained by athletes at liberty," said Manternach. 
At Liberty, it's common to see athletes walking around school with tape, boots, or casts. One wrong move could leave an athlete on the sidelines for weeks. 
As previously stated, football injuries occur often. A sport where people are running straight at each other and tackling, injuries are very common. Liberty's football team had several injuries during the 2022 season. Cooper Hughes, 10, tore his ACL during a drill where his cleat got caught on the turf. Ben O'Connor, 12, dislocated his shoulder twice and had to have surgery. Gavin Benton, 11, ended up getting surgery on his knee after the season.
Sports injuries are not limited to football. The volleyball team saw numerous injuries this year. Cassidy Hartman, 12, had a grade 2-3 ankle sprain that tore almost all ligaments and was out for around six weeks. Another big setback for the team hit Nessa Hardaway, 11, who got three concussions this year. One was from blocking a ball and getting hit instead and the other two were from shagging (helping catch the balls during drills). Hardaway's concussions were so severe that she started passing out and getting migraines. 
"I would give ideas of sentences of what I wanted to say in my head but I wouldn't be able to actually form them into words and say them aloud," said Hardaway.
Injuries to the head are serious and unfortunately common in many sports. For volleyball, while blocking, digging, or even just standing on the side, a ball can fly from anywhere and take you out of the game for weeks. Soccer is another sport where concussions can occur. 
Frank Fiordellisi, Liberty girls soccer coach, mentions a common misconception about concussions.
"Usually people think concussions are from heading the soccer ball. Rather, concussions mostly occur when a player gets hit in the head by something like another player's head/shoulder/elbow, or even falling to the ground and hitting their head on the ground.  These can be very hard to prevent, because most concussions are unexpected and the event which causes them happens quickly," said Fiordellisi.
Fiordellisi mentioned that the girls usually experience muscle strains most often, because they are not ready for the season to start. 
"During the high school season, we usually practice or play every weekday, so it is hard to rest and recover properly.  So these injuries can often linger throughout the season."
Even in non-contact sports, there is still risk of injury. For example, dance can be very hard on the body. One wrong turn can put them in a sling or boot. Jane Rozz, 10, broke some bones in her foot from a wrong landing and ended up in a boot for three months. 
None of these injuries have been career ending, only setbacks for these athletes to come back better than ever. Rozz commented on how her injury made her more excited to come back and show improvement. 
"Being out my freshman year sucked but it just gave me a fire under my butt for what I wanted to accomplish the next year going forward. I love to dance and it's hard, but [it] was even harder [for me] when I couldn't dance," reflected Rozz.
Obviously, there is a difference between these in- school sports injuries and Hamlin's injury. Hamlin had a near-death experience. Sports players have a low chance of having a similar experience but professionals are prepared just in case. 
 "[Damar Hamlin's injury] is the kind of scenario we train for and hope we never see," said Manternach. 
Though the more painful or scary parts of the game are often highlighted, this does not have to be discouraging to play after these big events happen. 
"I think that on the whole, the benefits of participation far outweigh the risks. And many of those risks can be reduced by having the right plan and people in place," said Manternach.
"
I think that on the whole, the benefits of participation far outweigh the risks. And many of those risks can be reduced by having the right plan and people in place.
— Anna Manternach
Fordellsi supported this opinion.
"However, I feel like something that is unprecedented like his injury shouldn't deter people from the possible positive benefits one can gain through sports.  There are benefits to your physical and mental health from exercises and staying in shape.  The valuable experience and life lessons learned from being on a team, competing with class, and how to win humbly and lose respectfully are very important in all aspects of life." 
About the Contributor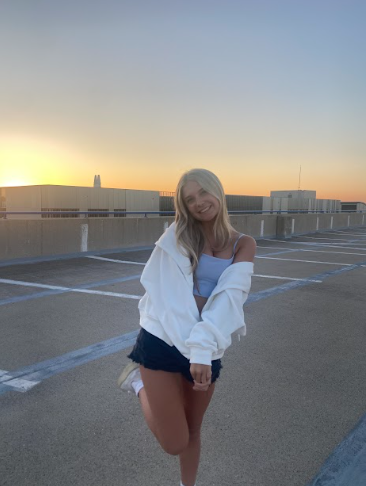 Jocelyn Klein, Reporter
Jocelyn is a senior at Liberty and this is her third year on the newspaper staff. She participates in numerous sports that she would not like to name....