The Jump From High School to College Athletics
Former college athletes share their insight on the transition from high school to college athletics and how the experience impacted them.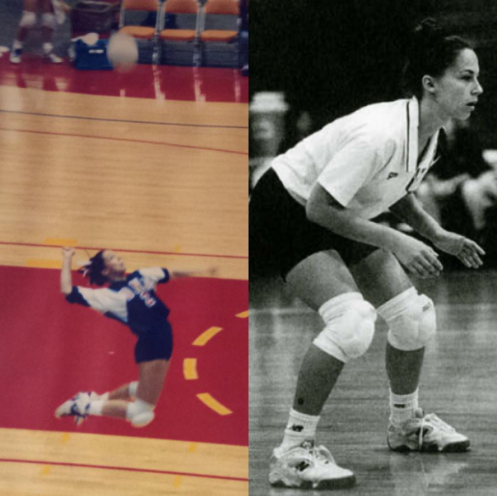 For many high school athletes, playing their sport in college is the dream. They aspire to be the ones broadcasted on television instead of the ones behind the screen. However, the transition from high school to college athletics can bring both challenges and opportunities. Depending on the level of college athletics, and the preparation prior to it, the move is different for every athlete. A couple of common things that athletes need to adjust to is the time commitment, new community, and different level of competition that college athletics bring.
Nowadays, athletics play a major role in many high school kids' lives. Their days consist of school and training for their sport, leaving very little time for anything else. Although this time constraint is present in high school athletics, college brings a whole new level of time management. 
Sam Klein, '22 Liberty graduate, is currently attending the University of Omaha on a Division 1 Diving Scholarship. She has noticed significant change from high school diving during her first season at college.
"I'd say per week I spend about 20-24 hours training which I never really experienced before coming here. Whether it's in the weight room, dryland practices, or actually in the water, there was not enough time in the day to really do all of that in high school," Klein said.
The new time commitment for college athletics can pose challenges for athletes. College classes are much more vigorous than those in high school, similar to the increased intensity of sports. For this reason, many student college athletes have to learn how to manage their time in order to be successful in both areas.
In some cases, finding a balance between being a college student and athlete can be a positive thing.
Darryl Moore, former Division 1 Iowa Men's Basketball Player, spoke on his experience.
"I can see how student-athletes find it challenging to balance both academics and athletics at the same time, but for me it brought structure to my life.  I didn't have much time to procrastinate, because if you wait too long to get your responsibilities done you might miss a deadline or something.  Between class, practice, games, community obligations, etc., the days are long so you have to learn quickly how to budget your time," Moore said.
In addition to the time adjustment in college, athletes also experience a new community of people that surround them. Depending on the location of college, friends may not be on the same team, or family won't always be in the audience. This is one of the downsides to the transition to college, however, it opens up opportunities for new relationships.
"I've never been around people who are as committed to diving as I am, so it's been nice to have a common ground," Klein said.
In high school, not everyone participating in a sport is looking to play at the next level. However, in college, everyone on the team has grown up extremely dedicated to the sport, hence why they are playing in college. This commonality connects many athletes and can form strong relationships.
Additionally, because of the high commitment of these college athletes, the talent level increases enormously and the practices and competition become much more extreme.
"At that level, a lot of the players are gifted athletes, so naturally they are stronger, run faster and jump higher.  Everybody on my team was the best player on their high school team!  My first day of practice was the biggest shock to me because of how hard everybody went from day one.  The coaches really pushed us, and if you aren't giving the effort they want, there's another good player just waiting to replace you," Moore said.
Another part of the college community that changes is the publicity of athletes.
For Shishonee Hughes, former UNI Women's Volleyball Player, publicity was one of the biggest changes she noticed when she became a college athlete.
"Suddenly many people know who you are, whether they are sports fans or not. You are on posters, you represent the University and your team. It is a pedestal you are placed on, but not something I expected or was asking for. It was an adjustment," Hughes said.
The experience of playing college sports is one remembered for a lifetime. Although there are many challenges, it provides lessons that can be used in many aspects of life, other than just for the actual sport.
"The biggest takeaway for me was the experiences, the travel, the people, the relationships I've built, is mostly because of basketball!  Life is so much bigger than the game!  The work ethic, discipline, and relationships I've built over the years is so much bigger than sports.  They stay with you for your entire life!" Moore said.