Students and Teachers Take on Knitting and Crocheting
The art of knitting and crocheting has been around for centuries and continues to be popular.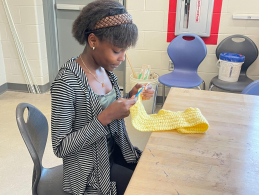 Recently, many students at Liberty High School have taken on crocheting and knitting. Crocheting and knitting use a hook, or a needle to interlock yarn, thread, or other materials. Students can make clothes, accessories, plushies, and so on.
However, knitting is nothing new. The earliest knitting piece discovered was an Egyptian sock that came from the 11th century AD. The art of knitting has been prominent in the Middle Ages and Renaissance. While crocheting came later. 
Once seen as old and outdated, knitting and crocheting have evolved into a trend. With people just looking for something fun to do, to people who are addicted to the art. 
"I became a bit obsessive about [knitting]. It was like a joke in my family because it was so out of character for me," admitted Jenny Saylor, art. 
 Saylor learned to knit with her students when she worked at West High. 
"It was probably 15 years ago when I first started knitting… I wanted to learn how to knit and we had a group of girls [at West High] who also wanted to learn how to knit. So together, we started a knitting club and tried to teach ourselves how to knit," said Saylor. 
Knitting and crocheting may seem like a simple craft, but it provides lots of benefits. According to the 'National Library of Medicine,' these types of activities can help reduce anxiety and depression, with effects similar to meditation. 
Saylor shares her personal connection to the art of knitting. 
"You know when I was doing it, I did it all the time and I found it really nice. Like, instead of sitting down and meditating, which I don't do. It was just like this nice time to just be like, a little bit brainless. I really do think there are benefits," said Saylor.
While knitting and crocheting can seem intimidating, there are a lot of choices for beginners. 'The Woobles', which gained attention on TikTok, is a place where you can buy crocheting kits especially made for beginners. These kits are pre-started and come with 'beginner-friendly' yarn.
About the Contributor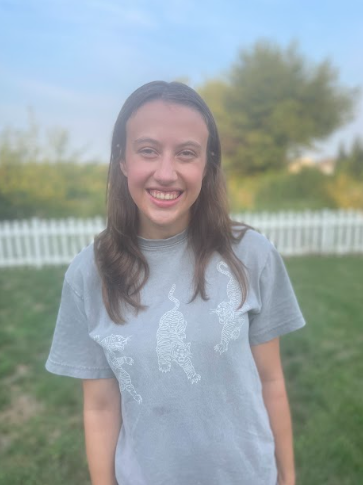 Megan Quinn, Editor-in-Chief
Megan is a senior at Liberty. This is her third year on staff and she is the editor-in-chief for the 2023-2024 school year. She is involved in theatre,...