Delving Into the World of Business Professionals of America
Business Professionals of America is becoming an increasingly popular club at Liberty, and throughout the country.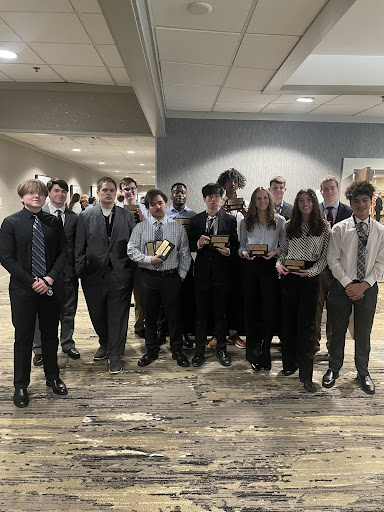 No matter what career you pursue, you will have some interaction with the business world. Students participating in Business Professionals of America (BPA) are able to jump into this world a bit earlier. BPA is a club that works to develop student's business skills. Found in 25 states and a few other countries, BPA has a wide network. Liberty's BPA chapter recently competed at their National Convention in Anaheim, California.
In BPA, students in both secondary and postsecondary schools choose at least two events out of hundreds to compete in. Events are in the areas of health administration, finance, management, marketing, digital communications, and business administration. Each year, students spend hours of time in preparation for their event.
Phil Raiford, 11, competed in both Java programming and fundamental accounting, "I put a lot of time into preparing for my events, definitely Java programming. I did almost all of the practice tests for it and the same goes for accounting."
At Liberty, Raiford was one of nine students that qualified for BPA's National competition. Nationals is the ultimate goal for participants. It is an opportunity for them to compete and place among the best of the best.
"You are competing against some of the brightest young minds in the nation," said Mark Langenfeld, an advisor for Liberty's BPA team along with Zachary Hammes. "Being able to represent your school on a national stage in anything is huge."
The top three participants in most events at the State competition qualified for Nationals. For test taking competitions, the top five were qualifiers. With over 45,000 student competitors, getting to Nationals is a great feat. At Nationals, you are exposed to a range of students interested in similar things. It serves as a great opportunity to learn and grow as a competitor. Students are able to network and connect with their peers, compete among the best of the best, and experience a new place.
"Nationals was a great experience," reflects Clara Welch, 10, a finalist at nationals. "It was really fun in California to be surrounded by a bunch of other people your age who are interested in the same things as you."
While business is not everyone's interests, BPA still provides beneficial skills for all members. It can help create important tools for students' futures, including: time management, communication skills, and professional dress and behavior.
"I think there are a lot of skills that BPA teaches that will be beneficial in the future, like interview skills, presentation skills, being comfortable talking in front of an audience, and problem solving," stated Welch.
BPA can also be helpful when looking for colleges and jobs. As students begin applying to scholarships and jobs, BPA can show an employer or interviewer that you possess dedication and a strong work ethic. Langenfeld was a past member of BPA and went to Nationals three years, where he placed in the top 10 for three events. When applying for scholarships, BPA helped him to stand out among other applicants.
"When I went to scholarship interviews, or just filled out applications for scholarships, that was one thing that was always highlighted and mentioned and brought up," said Langenfeld. "I think it's something that really helped me not have to pay for college."
BPA is a valuable resource to students to help them develop important skills and challenge them academically. Whether you express an interest in business or not, BPA can act as an important asset to a student's future.