Walking into a classroom at Liberty, you might notice empty desks, students and staff wearing masks, and the sounds of sniffling, coughing and sneezing. It's not unusual for sickness to spread around schools, especially in the weeks following summer vacation. Colds, coughs and stomach bugs are common as students and staff are in closer proximity. 
"Going back to school, there always is an increase in infections when kids are closely around each other and there can be clusters of infections," said Dr. Evelyn Chan, pediatrician, in an interview with CBS.
Additionally, back-to-school coincides with changing seasons, which can worsen asthma and seasonal allergies. This school year, however, the return to school has brought an outbreak of a different sickness, COVID-19.
Due to the fact that state and local health departments are no longer required to report the number of COVID-19 cases to the federal government, the number of individual cases has been difficult to track. Instead, the Centers for Disease Control (CDC) has been using other data to track the spread of the virus, specifically, the number of patients hospitalized for COVID-19. Hospitalizations of COVID-19 patients were at an all-time low in June. However, recent data shows, hospitalizations due to COVID-19 are up 8.7% and COVID-related deaths are up 10.5%, according to the CDC.
At Liberty, students and staff have been particularly impacted by the recent spike in cases. Students have found their routines have been disrupted by COVID-19. This can be especially difficult at the start of the school year as students are adjusting to a new schedule. Larkin McMorris, 10, tested positive for COVID-19 during the second week of school.
"I missed three quizzes the day that I was gone, I had to make them up all of last week. I missed a cross-country meet that I had on Saturday," said McMorris, "I was starting to get in the groove of school, and then [COVID-19] was like a fork in the plan."
Many extracurricular activities have been canceled due to large numbers of students being forced to quarantine. Clover Babka, 12, is a member of the choir, which has been heavily impacted by the recent rise in COVID-19 cases.
"I'm practicing for All-State Choir right now… I've only met with my quartet once. We were supposed to meet four times this week [but] two of the [meetings] were canceled due to COVID," Babka said, "[COVID-19] has kind of just thrown all of that out of the loop."
For many students, the recent rise in COVID-19 cases at Liberty is causing increasing levels of concern for the health and safety of themselves and their loved ones.
"Both my dad and my brother are immunocompromised and my dad had COVID back in 2020… he was in the hospital for two months on a ventilator," said Babka, " I have to be a lot more careful than other people, not only for my safety and health but for my family."
The most common COVID-19 symptoms that Liberty students are currently experiencing are congestion, runny nose, cough, headache and sore throat. These symptoms can be easily mistaken for other illnesses.
"I felt really stuffy and I had a sinus headache. I just felt really out of it," McMorris said, "I thought it was just a leftover summer cold… I didn't have a fever or anything so I didn't think it was anything that serious. Then I tested and it was positive."
The threat of COVID-19 is not over. Many experts encourage people to stay vigilant and up-to-date on the latest information and data.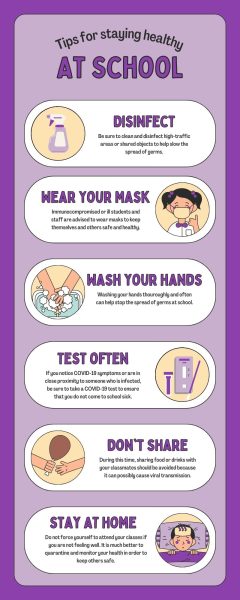 "Most people believe COVID-19 has turned into a common cold. For the immunocompetent, someone with a functioning immune system, that might be true part of the time," says Ryan Miller, infectious disease specialist at the Cleveland Clinic, "But we're still seeing critically ill patients, people who are mostly older, with multiple illnesses and COVID-19 infections coming into the hospital with severe respiratory disease."
The CDC recommends testing immediately if you have COVID-19 symptoms. If you have been exposed, it is recommended to wait five full days after your exposure before taking your test. To keep others healthy and safe it is also advised to test before attending large events or visiting immunocompromised individuals.
Anyone who tests positive for COVID-19 is recommended to isolate for five days or longer, depending on the severity of symptoms. The CDC also recommends wearing a mask in public places until 10 days after diagnosis. 
"It's our responsibility as people with good immune systems to help protect the people who don't have good immune systems. That's standard protocol for all viruses," said Miller.