After years of just barely missing the jackpot, Liberty Girls Volleyball finally won state last year. The 2022-23 volleyball team was the first in Liberty history to win the state title. How did the team get there, and what will they do now?
Liberty's volleyball team began in 2017, the same year Liberty opened. The first team consisted of Randy Dolson, the head coach, and Allie Kelly, the assistant coach at the time.
"Coming into a new school, activities are a good way to build culture, so it was important for me to feel like I was involved in helping [create] that," Kelly said.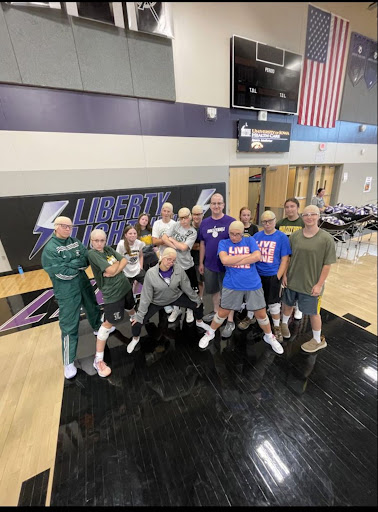 The volleyball team only continued to improve with time. In the 2020-21 season, the team made it to the state tournament only to fall short. They earned second place in 2020, and were eliminated in the first round in 2021. However, 2022 was different, and the now Head Coach Kelly saw that from the start. 
"[From the start of the season,] they definitely had the potential, the skill was there, so just making sure the mental aspect was there was really important," she reflected. "I think we all saw that goal [of winning state] as something attainable, so we just had to really work together to see if we could make it a reality."
The volleyball class of 2023 had years of playing together under their belt. Lilah VanScoyoc, Shelby Kimm, Cassidy Hartman, and more had been playing together for three years. Gracie Hennings, 12, noted the importance of their experience together. 
"A lot of the ['23] seniors had been playing together for a long time and they all really trusted each other and communicated well," she said.
On November 3rd, 2023, the team beat Pleasant Valley in the championship and took the first volleyball state title. After the season ended, the seniors graduated and went on to play volleyball at several colleges. However, their departure has changed the dynamics of the team. 
"I think we are rebuilding a little bit. We are depending on younger girls to fill some really big shoes that were left both by people graduating and deciding to stop playing… Yes, [it had] a big impact but I think they ['23 seniors] have also left a big impact in terms of the culture they've set," Kelly reflected. 
This year, captains Asta Hildebrand, 11, and Hennings are both helping to shape the new group of girls, using what they have learned in the years prior.
"[My role as a captain includes]: leading by example for the multiple freshmen on varsity, keeping vibes good and positive, and keeping people accountable," Hennings said. 
Even though there are still girls on the team that played varsity last year, the transition from last season brings a lot of expectations for the team. 
"At first, there was a lot of pressure to stay at the level that we ended at, but realistically it is hard to do that with a new team," she affirmed.
With a new season, other teams generally try to put their best foot forward against Liberty at the beginning of the season.
Kelly said, "I do think we get a lot of people's best game and I think for us that is a good thing… In terms of our girls, I think that their expectations are managed and they understand that every team [they play] is different."
Not only do the teams they play change with time, but each year is a fresh start with a new group of girls. 
"Some may need more skill work, some may need work in team culture. Every single year is a reset. Even if you only graduate a few players and bring in a few new players, it's going to change the dynamic…" Kelly remarks. 
Being such a young team, with six freshmen, some of the players went from watching the games from the sidelines to going right to the court.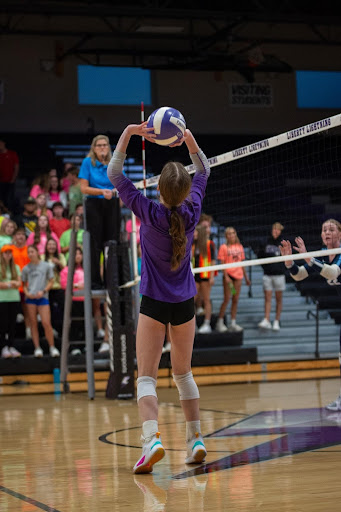 Ellie Wilson is one of those freshmen. As a varsity starter and hitter, it can be a lot of pressure. Luckily, the girls have more positive feelings than negative.
Wilson says, "Sometimes I get nervous, but usually games are full of happy and excited emotions."
This season still has plenty of games left. Each week the girls spend much of their time at practice, improving their skills.
"The attitude and effort every single day is really really good. We have girls working their butts off… they are coming up against some tough players and some tough situations but they are working really hard," Kelly notes.
Within any team atmosphere, being able to operate as a unit is important, along with the mentality of the players. There is still time left in the season and Kelly sees a positive future.