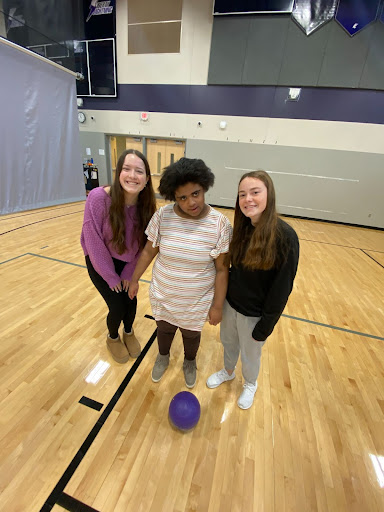 Considering Liberty's short history, Bolts Buddies, Liberty's chapter of the Best Buddies organization, holds a foundational position within the school. The club began at Liberty in 2017 and has an even longer history at North Central Junior High. 
Overall, Best Buddies is, "dedicated to ending the social, physical, and emotional isolation of the 200 million people with intellectual and developmental disabilities [IDDs]," according to the organization's website.
Best Buddies is an international organization with programs ranging from school clubs to integrated employment, to inclusive living and more. Liberty's Best Buddies has worked to define their club for itself. 
"Bolts Buddies is an inclusive club where we hang out with students who have intellectual or developmental disabilities and help make them feel included by playing games and doing different activities," said Lucy Lohman, 11. 
Peggy McGuire, the club's advisor, has an even larger vision for the club, "This club is to help 'spread the word to end the word.' What this means is you are helping spread the word of disability to end the word being [considered a] bad/ scary thing to say. Fostering inclusion and friendships in our community at Liberty and beyond."
Many members have felt this club's impact since middle school.
"I think everyone should know the lasting impact Best Buddies will leave on you. It's important to realize the impact on the buddies' lives but [also] the impact for yourself," reflected Makayla Hested, 12. 
According to the CDC, "Developmental disabilities are a group of conditions due to an impairment in physical, learning, language, or behavior areas." About 17% of children aged three to 17 years old have at least one IDD. Despite the work of organizations such as Best Buddies, there are prevailing stigmas surrounding IDDs in schools, workplaces, families, and more. Through advocacy as well as ground root work, there appears to be progress in these areas. However, there is still much work to be done. Despite this, Best Buddies members at Liberty and internationally have found it difficult to convince communities of the need for work in this area. This issue is not unique to Liberty. 
"It was really hard. You feel like nobody understands the importance, nobody understands the relevance, and it was very frustrating," Sarra Dennehy Lynch, the founder of Best Buddies programs in New Hampshire, told the NH Buisness Review. 
Despite this difficulty, Bolts Buddies has left a lasting impact on those involved.
"I have always had a very positive experience. We are very welcoming to everyone and it is such a fun environment to be a part of," said Hested.
If you are interested in joining or supporting Liberty's chapter of Best Buddies don't hesitate. 
Bolts Buddies meets every other Monday during Liberty Time. You can follow them on Instagram @lhs_boltbuddies_ where events are posted or contact McGuire ([email protected]) to join the club.