Foreign exchange is a unique opportunity for students from around the world to be immersed in different cultures. Liberty opened its doors to international exchange students in 2017. However, they had to stop accepting exchange students in 2020 due to the COVID-19 pandemic. This year, Liberty restarted the program.
Liberty has welcomed five foreign exchange students from Sweden, France, Germany, and Montenegro. Each of these students have brought unique experiences, perspectives, and culture to the school.
"One of the reasons I really love the foreign exchange program is the exposure it gives Liberty students to other cultures. It is beneficial for Liberty students and for the foreign exchange students," said Misty Keene, Liberty registrar. 
Keene is responsible for the foreign enrollment process. Several organizations such as World Link, Youth for Understanding (YFU), and Borderless Friends Forever are in contact with Keene to facilitate exchange. These organizations match Liberty's vision for exchange.
"YFU's mission is to advance intercultural understanding, mutual respect, and social responsibility through educational exchanges for youth, families, and communities," said YFU's representative Sandy Scaia. 
The foreign exchange students have various reasons for joining the programs.
"I hadn't even thought about it… Then I met a friend and she was going on an exchange year. That was the first time I heard about one. I thought it sounded so exciting. So I sent in my application… and went through a bunch of interviews," recalled Hilda Nordgren, 12.
Nordgren is from Sweden. She came to Liberty through Education First's exchange program. She is 17, in her second year of "high school" in Sweden. Nordgren knew there would be many differences in her education at Liberty compared to her education in Sweden.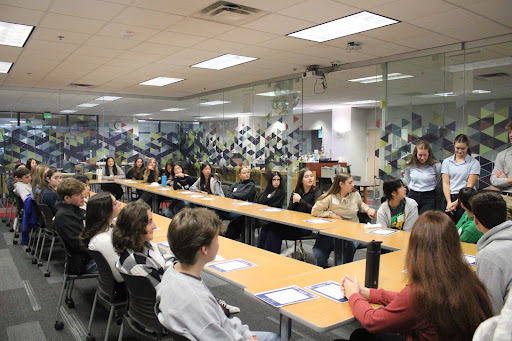 "We have high schools for different fields. If you want to study economics you go to an economic high school. I am doing the Economics one," said Nordgren.
Kimberly Haarman, 12, came to Liberty from Germany this year and has experienced many differences in academics in Germany and the US. 
"School here is much easier… You also get to choose your classes [in the US]," said Haarman.
Outside of academics, Haarman experiences have been similar to expectations.
"There is a lot of fast food… I miss food from home… There are cliques and stuff…," said Haarman. 
However, Nordgren was surprised by these aspects of American high school.
"Most of my expectations came from American movies with the yellow school buses and football games… but when I was coming here I thought 'of course it's not going to be like the movies' but I feel like it is. I didn't expect that." said Nordgren.
Though the transition to this culture has been difficult, Haarman and Nordgren have felt welcomed by the Liberty community.
"For the most part, everyone has been super welcoming," said Nordgren. 
As the year continues, many of the exchange students look forward to holiday activities, new sports seasons, prom, and more. As foreign exchange options at Liberty continue and expand, Liberty looks forward to supporting diverse backgrounds and perspectives at Liberty.