Keeping Resources in Cycle
Learn more about Liberty High's recycling program.
The United States has a problem with waste. Despite being home to only 4% of the planet's population, we produce 30% of the world's total trash. And according to an estimate by the Environmental Protection Agency (EPA), although 75% of our trash can be recycled or composted, only about 34% of it is.
Solving the waste problem starts at a local level. US cities with 50-80% recycling rates like Portland, San Francisco, Los Angeles, and Seattle only maintain these rates because of active citizen participation and a good recycling program.
Liberty High's recycling program is run by the special education department. Almost every Liberty High classroom is equipped with cardboard boxes to collect paper, aluminum cans, and plastic recycling. These materials are then collected and disposed of by students in the special education department.
"We try to go every day, but some days there [are] hitches in the road [and] we don't get out," said Kim Cranston, special education teacher, "but we try to hit every room at least once a week."
The students are graded on their independence, focus, and teamwork while completing this task.
"I've got one kid that could recycle all day and be a very happy camper," said Cranston. "Some like it more than others, some like different aspects of the job."
After collecting the recycling, the students recycle the paper in a bin behind the school. The remaining cans and plastic bottles are sorted before being taken to multiple recycling centers in the community.
Completing this task benefits the students by teaching them job skills and independence. It is also a catalyst for them to interact with other teachers and students in the building.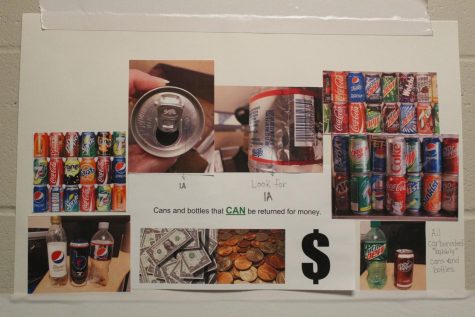 The job comes with monetary benefits as well, as recycling some types of bottles and cans generates income. This money goes to the special education program and is spent on snacks and out-of-classroom activities.
"We've used [the money] to take them out into the community to practice eating in restaurants," said Cranston. "In class, we went through [the] menu and ordering and how you should sit and act at the restaurant, and then we went and did it. The kids helped pick out the kind of pizzas we were going to get."
Although the recycling program is working well, there is still room for improvement.
"We've had a few incidences where we've gotten things in the recycling that shouldn't have been there or we get bottles with liquid still in them," said Cranston.
Recycling cans and bottles that still contain liquid contaminates the material integrity of other recycled goods, making the items non-recyclable and likely to end up in landfills. On a smaller scale, liquids may also dirty the cardboard boxes that are currently being used as recycling bins.
"I think if every teacher had two buckets rather than two boxes, that would help. Boxes end up waste because they get dirty and they have to be interchanged," said Cranston.
All in all, it takes effort from everyone, even on a small scale, to keep the planet clean.
"From the amount [of recycling] that we get, I think [students and staff] are doing a great job recycling," said Cranston. "There [are] days we can't even finish a hall before we're full."
Reducing Waste by Abigail Fowler[/infographic]