Q&A with SFA
This school year, students have been struggling with mental health more than ever. Also more than ever, mental health awareness is at the forefront of many social movements. Many students don't know where and how to reach out, but Liberty has its own resource: the Student Family Advocate. ShaNell Young, Liberty's full-time SFA, answered some commonly asked questions.
Q: What is a Student Family Advocate (SFA)?
A: "The SFA provides support, resources, and referrals to students and families within the Iowa City District. Every single one of you guys has access to us."
Q: What can SFAs help with?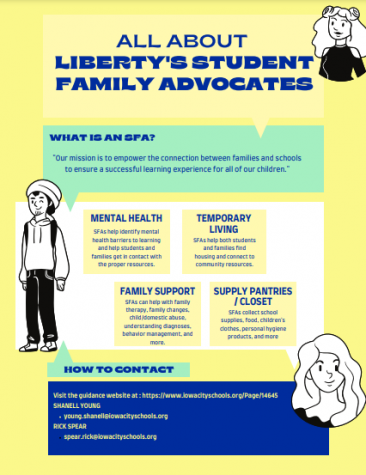 A: "[We help with] mental health services and resources, basic needs in the school and community, such as school supplies, free/reduced lunch, transportation, food, shelter, etc, mak[ing] sure [students] have the medical care they need. I regularly take students to appointments with the permission of parents. [We also connect students with] LGBTQ Youth Resources, suicide resources and support, McKinney Vento, [which is] homelessness [support], the food pantry, and [give] referrals to the district's Healthy Kids Clinic and other medical community providers. [I am] not a scheduler [like the counselors], but I can help with school workload and making a schedule fit for you. I work more with helping students balance the workload associated with class, specifically executive functioning skills, communicating with teachers, and advocating for themselves."
Q: How do SFAs interact with students, families, communities?
A: "We have partnerships [with many outside resources such as] United Action for Youth (UAY), University of Iowa Hospitals, and non-emergen[cy] 911."
Q: In what circumstances should students go to SFAs?
A: "[If a] teacher [or administrator] has concerns for students or feels that students may need someone to talk to, they tell me. Parents may call me themselves and inquire about assistance, [or] students may refer themselves."
Q: What is McKinney Vento?
A:  "McKinney Vento is a program of students that are homeless and cannot access transportation, etc. [One benefit is that a] letter can be written on your behalf and your college, a big chunk, is paid for."
Q: Are SFAs mandatory reporters / What is a mandatory reporter?
A: "SFAs (and educators) are mandatory reporters, [which means we are] obligated to make a call for [first-hand accounts of] abuse or neglect."
Q: In what ways are SFAs working behind the scenes?
A: "[Right now, I am] working on transportation, [which means] lots of phone calls, paperwork, verifying addresses, etc. [I am also] sending releases to parents to continue working with doctors to maintain medical regimens in the school."
Q: How do students contact you?
A: "Stop by anytime! My office is across from Naughton. Because of Covid, it is by appointment only, but I am flexible!"
Emails: