Football vs Mt. Pleasant Recap
Football team gets much needed win versus Mt. Pleasant.
Liberty football fans finally got something to cheer about last Friday night. The Bolts shutout Mt. Pleasant resulting in a final score of 56-0. The Bolts received their first win of the season, but more importantly, proved to everyone that they are much better than their record may suggest. The football team was just a play away from beating CCA, and held arguably the best team in the state, North Scott, to just twenty-one points. 
The homecoming game for Liberty, the Bolts wasted no time getting to work. They scored two touchdowns in the first four minutes of the game. A third touchdown soon after made the score 21-0 after the first quarter. Nothing changed in the second quarter, as the bolts continued to put up points. Halftime score, 42-0. Coming out a little slow after half, neither team put up any points in the third quarter. The fourth quarter started with a bang, as Garrett Gregoire, junior, returned an interception for a touchdown putting the team up 49-0. One more touchdown in the fourth by Garrett's twin brother Trey Gregoire made the final score a whopping 56-0. 
Tye Hughes, junior, QB1, led the passing attack. He finished with a stat line of 88 passing yards, three passing touchdowns, twenty-two rushing yards and one rushing touchdown. Darius Willis-Newell, senior, ran through the Panther defense for 100 total yards and two touchdowns. Amari Thigpen, junior, Wyatt Williams, junior, and Luke Meyers, senior, each had a receiving touchdown. On the other side of the ball, Christian Barney, junior, and Gage Gingerich, senior, led the defense in tackles. Both players had four total tackles and three solo tackles. Gingerich had 2.5 tackles for loss. Emerson Bennett, senior, had the best stat line of the night. Bennett, Liberty's kicker, went a perfect 8 for 8 on PAT's. No field goal attempts on the night. 
Even starting the season 0-5, Liberty is not out of the playoffs. They hope to finish their schedule undefeated and secure a spot in the postseason. Which, by watching Friday's game, looks very do-able for the underrated Liberty Football team. 
Luke Meyers said: "We needed to beat [Mt. Pleasant] if we wanted to keep our playoff hopes alive. We started the year with some tough opponents and I believe that has made us a better team. All we need to do now is take that experience and use it to win out the rest of the season."
About the Contributor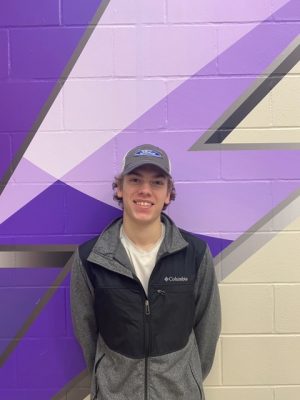 Luke Bollier, Sports Editor
Luke is a senior at Liberty and this is his third year apart from the Live Wire staff. He plays baseball for Liberty and enjoys playing all sorts of sports...