A Frosted Future
Cake decorating has become more than just a hobby for Tatum Stille, freshman.
Tatum Stille, freshman, squeezes frosting out of a tube, adding the finishing touches to her cake before sending it off to another customer. While cake decorating might be something many only do on their birthday, it's something that Tatum enjoys practicing on a regular basis. Now, about four years into her hobby, she's working towards her goal of starting her own business. 
"This summer I'm planning on opening my own business and licensing it. I was looking to do that last summer, and then with COVID it all got messed up," said Tatum. 
Running a business as a high school student requires dedication. School and homework is already a big responsibility, it's difficult to find time for cake decorating. Tatum's mom, Lisa Stille, thinks that Tatum has what it takes to be successful.
"The business would take some time away from her studies but the passion she has for seeing this through is motivating. I would guess she would bake or decorate every day if she were able to," said Lisa Stille, Tatum's mom.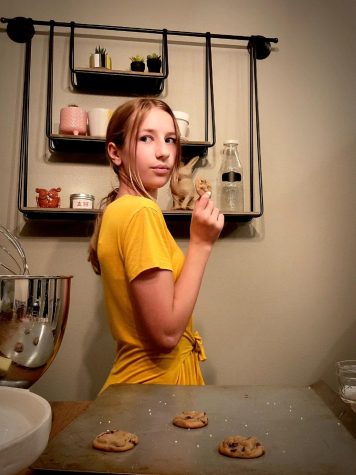 Tatum's mom was the one who first introduced cake decorating to her daughter, and it soon became clear that Tatum had a talent for party planning and cake decorating. 
"I could tell that she loved party planning and creating beautiful works of art. When she became interested in making and decorating cakes, it was a perfect fit! She loves coming up with a theme and ways to celebrate from decorations to games and the cake- she wants to do it all," said Lisa.
"My mom did a little bit of baking, and she taught me how to do a few things and that just sparked my interest. Now I'm a lot better than she is," said Tatum.
One thing that makes cake decorating exciting is the freedom behind being able to create anything your heart desires. This is why Tatum continues to love decorating cakes. 
"I like the creativity about it and being able to design whatever you want for it. It's fun to do that," Tatum said.
Inspiration can be found in many places for Tatum, from Pinterest boards to her own imagination. 
"I like to come up with a lot of crazy ideas in my head and I don't have any inspiration from anything, but then I also look at Pinterest a lot and Google. I don't usually do that exact same thing but I'll take one thing from three different photos and mash it together," said Tatum.
Cake decorating comes along with its share of struggles. Tatum has learned that mistakes are bound to happen and perfection is impossible.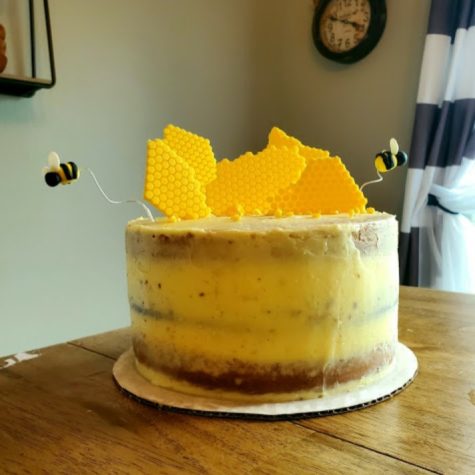 "It's taught me that I need to be less of a perfectionist… I spend way too much time, and then I've spent a whole day and a half working on a cake, and I'm like 'Oh no, my weekend is over now!'" Tatum said.
"Tatum's vision for her creations is precise. She is a bit of a perfectionist," Lisa said.
Practice might not make perfect, but it can make cakes better. Tatum strives to make her cakes as flawless as possible, especially when she is decorating for a customer. 
"I like to practice before I actually send it to somebody. That way I'm not messing up on their cake. That would be bad," said Tatum. 
In her four years of experience, Tatum has grown a lot, and not only in the kitchen. Cake decorating has helped teach her time management skills, which are important in every aspect of life. 
"The pride I see when she has learned something new and created a beautiful and delicious cake is priceless. She loves it and we don't mind having delicious cake and buttercream left over! She also has improved her time management skills as she has had to plan stages of prep, baking and decorating in order to have the creation ready before a party or gathering," said Lisa.
Tatum has found that social media and email are the best ways to advertise her skills. She is planning on keeping her business small for now, because the responsibilities of high school are already a lot. 
"I don't need a ton of advertising because I don't want to have craziness. That would be a little bit overwhelming," Tatum said.
You can find Tatum on Instagram @frostedbytatum. Right now, Tatum is on track to accomplish her goal of opening and licensing her business this summer. The future looks frosted for this aspiring cake decorator.