One Kid At A Time
The Martinez family is helping kids live a normal childhood through the power of Safe Families.
Clean clothes, warm food, a nice bed, and a safe, loving home are all things that wouldn't have been possible for 4-year-old Aleena and her 5-month-old baby brother Braylin if it weren't for the Martinez family. Ellie Martinez, sophomore, is known as an everyday average student, but she and her family were much more to Aleena and Braylin. They were all they had to call family.
The Martinez's started working with an organization known as Safe Families about 4 years ago. They were able to find out about this through their church, Parkview North Campus. The goal of the organization is to support the families at many different levels to help them get on their feet. These families are not yet in the Department of Human Services (DHS) system. 
The fostering part of the organization is meant to be short-term. 
According to their website, "Safe Families for Children is a faith-based movement motivated by compassion, generosity, and hospitality to keep children safe and families supported facing a crisis. We bring church and community together, mobilizing an army of volunteers to advocate for vulnerable children and socially isolated families." 
Carrie Martinez said: "We had always wanted to foster and this was a unique opportunity as we are able to support families in many ways including fostering." 
In the past, the family was able to help the organization in other ways such as providing furniture to families, financial support, daycare/respite care, etc. Aleena and Braylin were not the only family that the Martinez's have supported; they also hosted a 14-year-old boy who was autistic and diabetic. While this was a different kind of experience, Carrie said:
 "He made so many gains when he lived with us. His communication increased and we were able to assist in getting his diabetes more under control." 
Not only have the Martinez's helped out kids in need, but they have also helped to improve them as people. 
However, taking Aleena and Braylin into their family was definitely the biggest thing they had ever done with the organization.  The family took in Aleena and Braylin on July 7, 2020. They were only planning on being with them for a few months but that surely changed. The Martinez's took care of the kids as if they were their own. Their church was able to provide some additional financial support as they were having to pay for two kids in daycare along with Aleena's preschool and her dance. The family was in charge of providing for them, so all of their food, clothes, toys and other needs were all provided by the Martinez's. The two kids were treated as if they were their own. 
 "They became so close with our family that we loved them just like our own family," said Ellie. 
Some of those kids' biggest moments were spent with the Martinez's, especially for Braylin. With Braylin coming there at only 5 months old, he learned many things with the family. He took his first steps, sat up for the first time, laughed for the first, and hit many more milestones and special moments. Even holidays were spent with the Martinez's where the family was able to provide gifts and on holidays such as Christmas.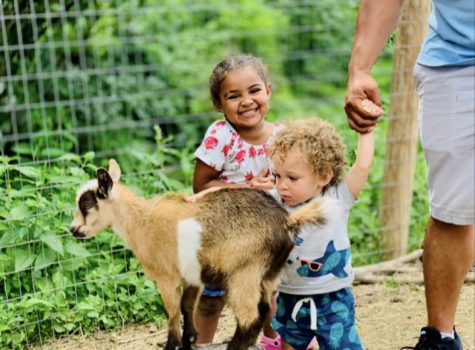 The two kids left at different times but both spent a generous amount of time with the family. Ellie and her mother Carrie both agreed that saying goodbye to the kids was the hardest part of their time spent fostering. Aleena was with the Martinez's for about 9 months and saying goodbye to her was a "bittersweet moment," Carrie said. This was because Aleena was very excited to be going to live with her mom and travel on a plane to California. The family had given her a new suitcase filled with her clothes and a box was sent with all of her things. 
"We were so sad to see her go, but she was so excited about all the 'things' – it was just pure joy," said Carrie. 
Braylin was different for the family because he had spent about 12 months with the family and they had so many firsts with him. The Martinez's were the only family Braylin had ever known. The family is still in touch with the two kids who now live with their mother Maddison out in California. They are still able to keep in touch with them through Zoom, packages, letters, etc. 
"One of the hardest parts is whenever he sees my mom or my dad his face lights up and he just starts happy screaming or when he kisses the camera cause he knows who it is," said Ellie.
The Martinez's are continuing to support both of the kids.  They are able to give them financial support by providing supplies/clothing that they may not be able to get.  They are even planning to go visit them this fall. 
 "We are committed to continuing to help and support them as they are like family," said Carrie.
Carla Tripp, Safe Families Chapter Director said "The Martinez family [is] an absolutely wonderful, selfless, generous, and compassionate family. They made a decision to take children into their home to ensure their basic needs were met, they did so knowing they would incur costs of raising additional children temporarily. The children were cared for, loved, and kept safe until their mother was stable enough to parent full time."
While there are over 400,000 kids in foster care, the Martinez's are helping that number go down and doing what they can one kid at a time.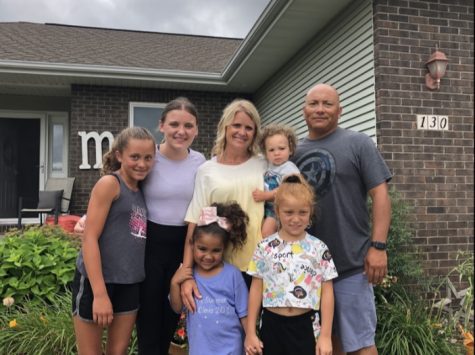 "We feel that we have been blessed to be part of this program and to provide support to individuals in need when we can.  As far as Aleena, Braylin, and Madison –  we continue to love them and be a part of their lives.  That's what's most important to us.  We are family," said Carrie.
Visit Safe Families Website now to help a family in need.