Gaining Maturity At a Young Age: Inside The Life of Financially Independent High School Students
Students at Liberty speak out on the struggles of being financially independent while still in high school.
Having to constantly turn down plans with fellow classmates because you have to budget and make sure you saved enough money for a bill coming up, doesn't seem like a problem any high school student should ever have to worry about. Unfortunately though, some students do deal with this challenge. You might not be able to see it by how a student is acting but it doesn't mean they don't have to face this problem.
While the majority of high school students can rely on their parents for basic needs and wants, that isn't always the case for others. Though it is unspoken about, three senior girls are financially independent, that being they still live with their parents, or even having to move out and be alone. These three girls aren't the only ones inside of our building who have to supply for themselves.
This issue can be caused by many reasons such as parents mistreating their child, substance abuse and domestic abuse. Some kids aren't seen or heard because they don't speak up on this issue, they don't want to be seen differently by their peers, don't know what their parents may do to them, or other causes that lead them to have to do things that other students don't "typically" have to do. 
Financially independent students don't have much free time to themselves, and are constantly thinking and looking ahead. For example, 'What bill comes next?', 'How will I  afford next month's rent?', and 'what will life after high school look like for me?'.
Senior Jade Ramirez stated, "I work long shifts on weekends and am usually not available". Ramirez spends most of her time working, and as far as her social life goes she hangs out with friends during school. 
Senior Emma Johnson is working on graduating early right now, as well as her job and cheer. 
"It's really difficult to handle all these tasks, but I wouldn't want it any other way because I'm very responsible and mature," she siad.
Despite the many obstacles, Johnson believes her situation is preparing her for when she's an adult, and continues to have a positive mindset.
"
"The staff at Liberty have been so understanding, they've helped me connect with various different resources that have helped me greatly."
— Jade Ramirez
There are many helpful resources that Liberty provides for students facing these issues. Ramirez has really appreciated and benefited from the help the school has provided for her. Though she is not the only one who may be receiving this kind of help, she was one of few who was willing to speak up about this issue.
"The staff at Liberty have been so understanding, they've helped me connect with various different resources that have helped me greatly," said Ramirez.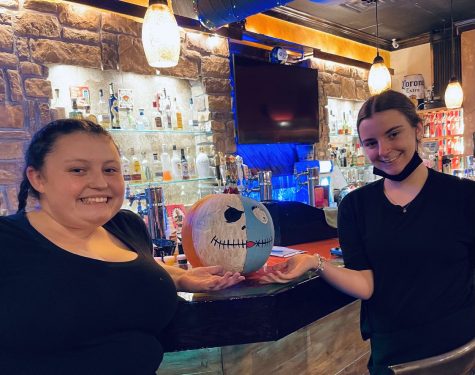 Senior Trista Spies, another financially independent student, talked about how her biggest challenge is balancing school with work and her many other tasks.
"Although school is a challenge," she said, "Yearbook is my outlet/escape from the world so I really prioritize it over everything else. During the hard times I went through, I only did yearbook related things, missing work to take photos, missing Kirkwood to do interviews". 
Liberty has been very supportive and helpful for students that are in need of resources and services that cannot be provided by themselves, fortunately for all liberty students who deal with these challenges all students have access to this help.