Embracing Iowa Culture With Moo Moo's Ice Cream
Moo Moo's is a local ice cream truck company serving the Eastern Iowa Corridor and is ran by the Happel family.
Moo Moo's ice cream is a traditional ice cream truck company serving Eastern Iowa. Based out of Solon, Iowa, they strictly serve Iowan-made ice cream in order to keep that Iowa culture alive and focus on embracing the rich experience of the ice cream truck business. The pride of the Iowan people is embraced in the business by the products. All Moo Moo's ice cream is produced by a strictly Iowan supplementary base. Blue Bunny ice cream, Anderson Erickson ice cream, Dan & Debbie's Creamery, Thelma's Treats, and the Yotty's Ice Cream Shop of Kalona all provide products for Moo Moo's. 
Sheila and Jason Happel, husband and wife, co-owners and founders of Moo Moo's, both reside in rural Solon, IA. Sheila was raised in the agricultural atmosphere on a North Dakota farm and made the days pass checking on the fields with her twin sister and father. The inspiration behind Moo Moo's was sparked from a past, fond memory of a savory-sweet treat, oh so long ago. Sheila recalls her childhood where she would be awarded with ice cream for a good day of work. 
On the other side, Jason had a little experience of his own in the ice cream business. Throughout college, Jason decided to drive an ice cream truck as a side job. The past experiences with ice cream between the two owners stimulated the idea for Jason to purchase five motorized ice cream trucks. With the number of vehicles that they utilize, they can cover the Corridor area, including Iowa City, Coralville, North Liberty, Cedar Rapids, Hiawatha, Marion, Solon, and a little here and there in surrounding small towns. 
Three Liberty seniors, Tate Happel (son of owner Jason Happel), Corey Baldwin, and Courtney Olson, are employed by the Moo Moo's business. With the owner being Happel's dad, you would think there would have been family influence with his employment.
"It was more of my own decision to work for the company," Tate informed. 
It turns out Baldwin and Happel, seniors, happen to be good friends.
"Who got me interested in working for Moo Moo's was Tate. I saw that he was enjoying it and was making good money doing it," Baldwin said.
"
The most important skills that you must utilize is kindness. You serve a lot of kids during the day and being nice is the key."
— Tate Happel
To work in the ice cream truck business, one must have a specific set of skills required to be successful on the job.
"The most important skills that you must utilize is kindness. You serve a lot of kids during the day and being nice is the key," Happel said. 
All three Liberty seniors drive a truck for the business. Olson described what a day on the scene looks like. 
According to Olson, "A typical day on the job begins with picking up the truck sometime before noon. During the weekdays, they focus more on delivering to businesses and other places that have held reservations for our business. The weekend is when we deliver to the residential areas because more people tend to be home at the time."
"My favorite part of driving for Moo Moo's is seeing the excitement on everyone's face when I work. It doesn't matter the age; people love seeing the ice cream truck drive by," Olson added. 
About the Writer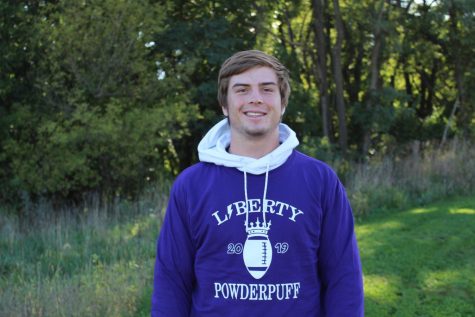 Max Tafolla, Reporter
Max is a senior at Liberty, and this is his second year with the newspaper. Max participates in football and track for the Bolts. He is a writer for the...