A Long Way From Home: Sowon Kim
Liberty High School welcomes a new foreign exchange student, Sowon Kim, from South Korea. She tells us about her homelands and how she is adjusting to the new environment in the United States.
The first day of school. One of the most exciting and nerve racking days for most high school students. But for Sowon Kim, it was even scarier. As a foreign exchange student from South Korea, she had to learn how the American school system works. Navigating
English and making new friends, Kim has begun to find her place at Liberty.
According to Kim, the exchange process started with a simple question from her mom: "How about going to America and doing some different things?" After thinking it over, Kim said yes. She then spent months studying english harder than ever and preparing for her trip across the world. 
"Everything was scary," said Kim, "but making friends was scariest for me." 
South Korea is a 750 mile long peninsula located on the most eastern part of Asia. It has a population of 51, 418, 097. Compared to South Korea, the United States is like a new world. South Korea is so small in size that it could fit in the area between Los Angeles and San Francisco, California.
Kim comes from a family where she is an only child. Her parents are both English majors, so she has spent most of her life learning English. Even though Kim misses her own family, she has still managed to bond with her host family. 
"
Everything was scary, but making friends was scariest for me. "
— Sowon Kim
"They are so kind to me," said Kim. Her host family has a ten year old daughter. Kim likes how her host family always is thinking of her. 
Fear of a new country did not stop Kim from making a trip of a lifetime. Instead, she began to get excited to emerge into a new culture of food, education, and people. 
"I was tired of South Korea's education and I wanted something new and different," said Kim. 
In South Korea, high school is based on home rooms. The teachers move to different rooms instead of the students moving. Kim likes it because it is very convenient. 
At Liberty, Kim plans to get involved by playing sports such as tennis. She also wants to get involved in a few school clubs. 
"Everything is exciting, [so] I can't choose one," said Kim, talking about about the upcoming school year. She plans to attend school events like the homecoming dance.
About the Contributor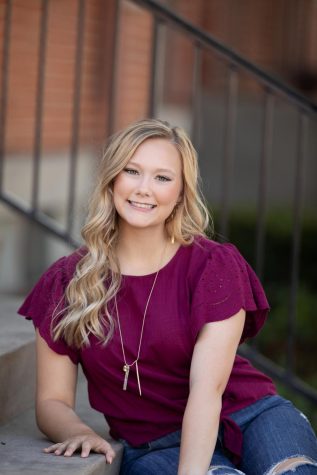 Kaylee Deisbeck, Social Media Chair
Kaylee Deisbeck, senior, is in her second year a part of the Live Wire staff. She plays soccer and is involved in multiple school clubs including Difference...