Rylee Fay and LeeAnn Potter Win National Championship for Volleyball
Two Liberty seniors Rylee Fey and LeeAnn Potter won an AAU Volleyball National Championship this past summer.
Winning a national championship is a big feat for anyone. This past summer LeeAnn Potter and Rylee Fay, seniors, played with the Eastern Iowa Xtreme 17U volleyball team. The team won the Girls Volleyball Junior National Championships. This was a huge accomplishment for the two girls going right into their senior season. Although winning felt great, it wasn't the most important thing to them. 
"I'm a very competitive person and love winning. It's really fun when everyone comes together to work hard to win is when it really matters," Fay said.
The team atmosphere is very important to them as well. 
"The energy we have on the court and the way we play together is the most rewarding thing," Potter said.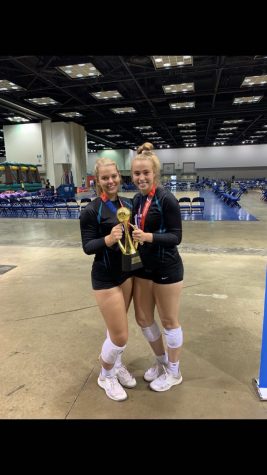 They've both been around volleyball their whole life and have been playing since they were ten years old with huge roles on the team. 
Potter said, "My role on the team was to be a defensive specialist, but more importantly I had to be supportive and positive to everyone on the team." 
Many teams aspire to make nationals creating a highly competitive environment. Eastern Iowa Extreme owned the court as they took control throughout the tournament by winning all 11 matches they played in, only losing a total of 3 sets. They played best 2 out of 3 sets for each game. 
Coach Jeff Meeker, who is also the head volleyball coach at Cornell College, had very high expectations for the two.
"My coach pushed me a lot this club season to become a better leader on and off the court and to get ready for college next year," Fay said.
Fay is planning on attending Missouri State to play volleyball next fall. 
"We had meetings almost every week talking about what I was doing well and what to improve on," Fay said. 
All of Fay's hard work lead to her getting named as a team captain. 
Getting to nationals was not an easy feat. The girls had to qualify and place well at other tournaments. 
Not only did they win the national championship, but they also got rewarded as well. As a team, they received recognition from other teams and coaches. Fay was named an All-American for the tournament, which is the best 11 players in the tournament. They also received individual medals and a team trophy and banner.
Fay said, "The biggest factor of us making nationals was everyone playing for each other. Our chemistry and confidence grew throughout the season."
About the Contributor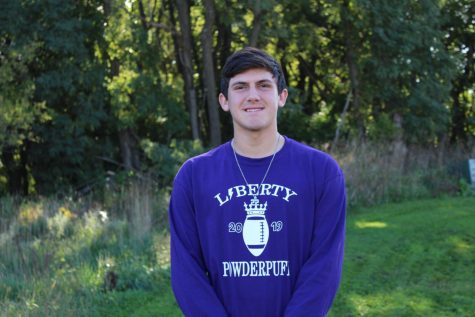 Zack Anderson, Social Media Chair
Zack is a senior at Liberty, and this is his second year as a part of the Live Wire staff. He plays golf and baseball for the Bolts. He also participates...