Club Highlights: Fishing Club
The fishing club is a new club at Liberty High School this year. It has provided many students a way to get out in nature, spend time with friends, and of course catch fish.
For students looking for a way out of the virtual world and into nature, fishing club is your place. Anyone is welcome, and they meet on Saturdays from 7:00 am to 9:00 am. Drake Torrance, sophomore, got the idea to start fishing club because of his childhood roots. 
"I've been fishing ever since I was a little kid. I was taught by my dad and grandpa. Then, I realized there are a lot of other people who like to do that stuff around here [school]," said Torrance. 
Troy Bergmann, Liberty counselor, is the sponsor for fishing club. Fishing club intended to be up and running last spring, but things didn't go as planned. 
"Last spring I had a conversation with sophomore Drake Torrance about starting the club. Unfortunately, things in the spring got a little busier than I planned, and we weren't able to get things going. I was encouraged by the students that showed interest during the club fair and the number of students that showed up at our first gathering," said Bergmann. 
Fishing club is new to Liberty this year, but many students, like Brayden Hambright, junior, have made the most of it. He joined the club at the 2019-2020 Club Fair with a few friends. 
"[You should join fishing club] if you want to just sit back and relax, and hang out with people," said Hambright. 
Fishing club has fished at North Center Pond in North Liberty. The plan is to stay in local areas to help make it more accessible to students who are involved in the club. The group has only caught a few smaller fish such as bluegill, sunfish, and one bass. Many people use fishing for their food supply, but Liberty's fishing club always release the fish once they are caught. 
Not every student involved in fishing club knew how to fish, so they had to teach each other. 
"We do have a few that have never fished and some that is one of their main hobbies so we're all across the spectrum. It's good because those with some experience can help out those newer to the sport," said Bergmann. 
With belonging as a major part of the BOLTS matrix, the goal of the club was to help students find something for them. Fishing club wants students to have a place they feel they belong at if nothing else has caught their interest. 
"I will say that this was the original intent of the club when Drake and I were speaking about it last year was to have another opportunity for students to get involved that may not find another club or activity appealing," said Bergmann.
About the Contributor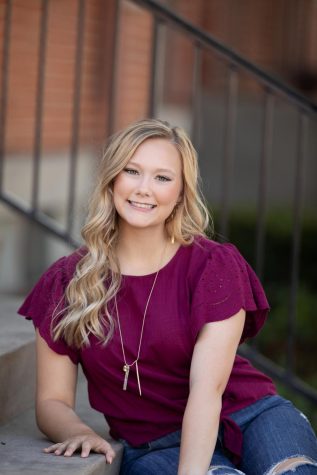 Kaylee Deisbeck, Social Media Chair
Kaylee Deisbeck, senior, is in her second year a part of the Live Wire staff. She plays soccer and is involved in multiple school clubs including Difference...