The Life of A Nationally Ranked Swimmer
The story of, Scarlet Martin, sophomore, and how swimming has affected her life.
 Becoming an All-American swimmer, one of the top swimmers in a certain age group, takes lots of hard work and dedication, spending countless hours before and after school grinding at your goals to make them realities. Liberty and West High's joint swim team has recently been named 2019 Mississippi Valley Conference champions, and Scarlet Martin, sophomore, has recently been killing it in the pool.
Over the years, not only has she been able to motivate herself but her family also has always been there for her. Oliver and Ruby, her two older siblings, grew up in the pool right by her side.
"Both of my older siblings are always so motivating whether it's cheering me back up after a race or cheering me on. And there is always an argument between who was faster when they were younger," said  Martin. 
Both of them were leaders of the swim teams at West High while they were in high school. 
Starting at a young age of 7 years old, Scarlet joined iFLY, a club team, where she swam with both of her siblings. More recently she started to swim for Cedar Rapids Eastern Iowa Swim Federation, as she progressed her way through elementary school. When she got to North Central Junior High for 7th grade, she was already set to break school records.
"I always looked up to my older siblings growing up I always wanted to be just like them, and it is always a goal to try and break Ruby's records," Martin said.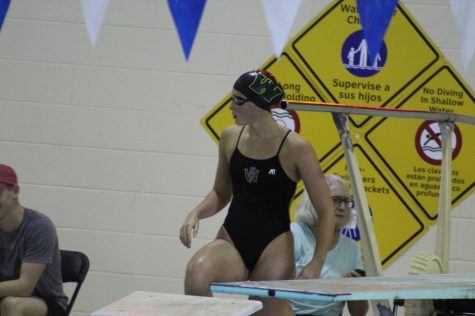 As she wrapped up junior high, she was set to make her jump up to high school. She had a very successful freshman year, in which she made it to state in 4 events, finishing 2nd in the 100-yard butterfly, 3rd in the 400-yard freestyle relay and the 200-yard individual medley, and a 5th place finishes in the 200-yard freestyle relay. She's looking to do the same or better in 2019 and beyond. With just being on the team for 2 years, she is already making an impact. 
"Scarlet is [not only] extremely competitive but also pretty easy going.  Her desire to win rubs off on other athletes. They see how hard she works while still having a good amount of fun," said West High Head Coach, Byron Butler.
While on this crazy road of countless practices and meets, her parents Jeff and Lisa have been by her side the whole way. Driving hundreds of miles to practices and meets all over the Midwest is just apart of daily life for the Martins. 
"She uses what she learns in the pool, [such as] passion, hard work and dedication, and applies it to other aspects in life," her father Jeff stated. 
Being ranked 10th in the entire nation in the 100 meter butterfly for 15 year old's. While also having the top times in Iowa for the 100 meter butterfly and the 200 meter medley, which is an individual race with all 4 strokes.
While Scarlet has done some really great things in her years as a swimmer, she isn't done. 
"She's only a sophomore and has already been to state and is really excelling at such a young age. It will be very exciting to see what she can do in the next couple of years," said teammate Lexi Janik, junior. 
"Scarlet has the potential to be a multiple-time state champion.  She could swim in a Power 5, D1 school if she desires it and certainly should be at Olympic trials before it is all said and done," Coach Butler said.
Scarlet most recently qualified for the 2019 Girls State Swim Meet in the 200 Individual Medley, 100 Butterfly, 200 Freestyle Relay and the 400 Freestyle Relay. The State Meet is this upcoming weekend November 8th and 9th in Marshalltown Iowa.
About the Contributor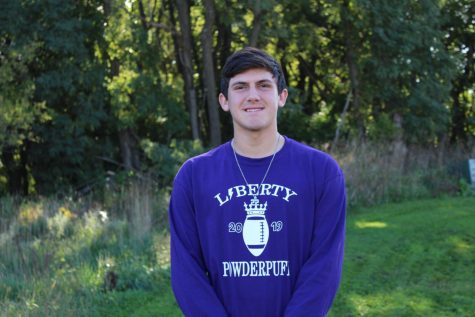 Zack Anderson, Social Media Chair
Zack is a senior at Liberty, and this is his second year as a part of the Live Wire staff. He plays golf and baseball for the Bolts. He also participates...