The Struggle to All-State Band
The word "State" can mean big things for all high school students. All-State Band can mean an increased amount of stress on Liberty band students' shoulders due to the intense preparation they go through.
High school helps many students achieve the goals they merely dreamt of as kids. For many musicians, the goal has been All-State Band from the moment they picked up their instruments. Instruments they had spent a long time playing whenever their school work didn't beckon them. Some students worry that they would never be able to manage school, sports, and prepare for such an important day all at once. But when discussing the challenges they faced and overcame with these three All-State auditionees, they implore that you can be successful in all fields.
Spencer Knight, junior, plays the french horn in concert band and is one of the newest drum majors in Liberty's 2019 marching band. 
"I have been doing honor bands since junior high, and I have always loved the experience of meeting new people and making music with them," said Knight. 
He has always been passionate in band which anyone would be able to see. Knight has always loved to socialize with new people and thrive in environments where he can challenge himself.
So, in regards to why he continues to audition for All-State band, Knight responded,
"
"Being accepted as an All-Stater is one of the highest honors a high school musician can receive, and I want to do my best to earn it." "
— Spencer Knight
Most band students see All-State as a high honor because it is simply in the name. All-State means that one is competing with a state-wide variety of musicians, which can be as scary as it sounds.
Chances are unless one is involved in one of the performing arts offered at Liberty, many may have never heard of the strenuous journey some choose to take to achieve such an honor. Though for some, this is no easy task; many musicians who represent Liberty also represent our school as athletes or in academics. 
An avid student-athlete, Tyson Baker, sophomore and tuba player agrees, "One of the hardest parts of All-State is motivating myself to practice, which can be difficult for me. It's hard for me to stick to the schedule of practicing." 
On top of the stress, to be successful academically and musically can be difficult.
"I haven't done any homework this year because I get home late, practice, and then sleep," Baker joked. 
All-State Band is very competitive, considering each musician is battling against every other high school's eligible and willing musicians in Iowa. The requirements make sure the musicians, according to the Iowa High School Music Association, are in grades 9-12 and are enrolled in a music curricular. 
They also cannot do both vocal and/or instrumental or play more than one instrument (save for a few exceptions). If one is selected, they must attend all rehearsals in Ames, Iowa. If they do meet all of these requirements, they have to be ready to audition on October 23rd for piano and October 26th for vocals, woodwind, brass, string, and percussion instruments.
The preparation process for some band students can be the most taxing of all.
Lauren Vogts, freshman, a trumpet player, had described the preparation being a mental practice as well.
"You have to constantly practice, and sometimes you have self-doubt that you aren't good enough."
On the contrary, Knight, said, "I do not consider All-State to be extremely stressful. There is more than enough time to prepare, as long as you manage your time wisely." 
While preparing for All-State can become stressful for many, each of our three All-State bound claim what a great experience All-State is to grow as a musician. 
Baker urged students to simply try out. 
"If you are a musician that is looking to get a lot better at your instrument then definitely do," said Baker.
Vogts added, "You can never be over-prepared. Even if you don't get in, it will benefit you to try out." 
With each and every pro and con, they all unanimously said they would encourage others to do the same. So if you're a musician on the verge of entering next year, with the support of your teachers and students behind you, they believe anyone can succeed with a little effort and drive.
About the Contributor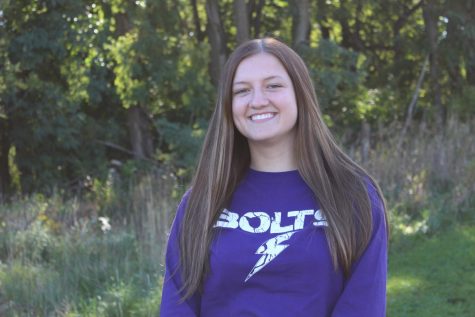 Gabrielle Brecht, Writer
Gabrielle, mainly known as Gabby, is a first-year writer on The Live Wire. A sophomore at Liberty, she enjoys playing in the band as a trumpet and reading...