Fighting to get Back for Game 1: Basketball Players Overcoming Injuries
Coming back from injuries can sometimes change how people look at life. As basketball season arrives, three main players for the Bolts are still healing from recent injuries. Senior Andre Brandon and Juniors Ethan O'Donnell and Basil Aldoss all have been injured and are on the road back to health to prepare for the intense MVC season. 
Sometimes when the injury happens, you know it's bad.
"I felt a pop in my knee and knew it wasn't good because I couldn't move it [knee]," O'Donnell stated when asked what his first reaction to the injury was. 
After a trip to the doctor, he learned that the first diagnosis was a torn lateral meniscus and possibly a torn ACL. This has a recovery time of 6-9 months, and that would mean he would miss the entire season. O'Donnell went into surgery on October 18th thinking he would be getting the procedure for his meniscus and ACL. But after very good news following the surgery, Ethan was informed that his ACL was not torn and would only be out 4-6 weeks with his meniscus. 
On the other hand, sometimes you think it's only a minor injury. 
"At first, I thought it was just an ankle sprain. But when it continued to hurt, I went to the doctor where they told me that I had completely torn my Achilles," Brandon said. 
After surgery, they reconnected his tendon. He began physical therapy three times a week for two months straight.
 When Basil Aldoss started to feel pain in his hip he thought it would be no big deal. But once again it turned into a lot more after hearing that he tore his labrum in his left hip.
"When I found out I had to get surgery and would be out 4-6 months," Aldoss said, "I was very angry and sad because I love the sport so much."
His surgery consisted of taking his labrum and reattaching it to the socket with plastic "anchors". 
"When I heard the news, I was down. Injuries are never good. Injuries can affect an individual mentally and physically making the situation hard to overcome," Coach Mark Lowe stated. "In the long run, I would love to see everyone's health so that they can play to their potential. Having injured players may alter the team chemistry. However, I think that our program has done a good job keeping the spirits and hopes up." 
Injuries take a toll on people. Sometimes it causes them to not play their favorite sports ever again. The boys have done all they can to get healthy and able to play this upcoming season. 
"My injury has affected it pretty significantly at first because I had to get used to just sitting around and rest my leg," said O'Donnell."Stairs have really bothered me, so that has caused me to use the elevator."
Injuries affect aspects of everyday life that you would never think of.

"When I first got hurt, I couldn't drive, so I was very dependent on my family and friends for rides and such," Brandon said. 
"At first it was hard to get out of the house because I had a brace I had to wear and had to use the crutches. It made it really challenging to do stuff on my own," Aldoss said.
"Each student-athlete is unique and each injury is also; however, a common mindset helps. The mindset is that the student-athlete will use his recovery time to focus on what he can do rather than what he cannot do," Head Coach Stu Ordman Said.
Injuries take lots of hard work and dedication to recover from them and getting back on the court. Most injuries require physical therapy, which is care that aims to ease pain and help you function, move, and live a better life. Physical therapy is very different depending on the injury but can also be very similar. All three boys have been doing exercises and stretches to regain strength and balance and get ready for the season. 
Keeping a positive mindset while injured is very key to a quick road back to recovery. Not just the players themselves but the rest of the team and the coaching staff as well need to keep a positive atmosphere. 
"I have maintained a positive support system, and I continuously remind them that their future is more important than what happens right now," Coach Ryan Kelly said. 
The team has continued to reinforce the idea of "a minor setback for a major comeback" on the boys as they go through this rough time in their life while being continually reminded not to push it and rush back.
"There is no sense in coming back early only to get hurt again. I tell them I want them to come back stronger than they were before," Kelly stated.
There is no worse feeling then just coming back from an injury and getting reinjured and starting all over again.  
There are certain steps the boys have to take before practices and games to become ready for play. They must focus on the little things to stay healthy and ready for any obstacles throughout the season. 
"I have to stretch more than I would normally get ready before games and practices, so I feel loose and ready to go. I will also ice whenever I am sore to stay healthy," Brandon described. 
 After being out for 6 long months and missing his entire club season over the summer, Brandon is healthy and is expected to be ready for the first game on December 3rd. On the other hand, with O'Donnell's injury taking place just a few weeks ago. He is still recovering but hopes to be back around Thanksgiving break and to be healthy for game one. After about 5 months recovering Aldoss has just recently been cleared to play. With this being said it looks like all three boys, despite their injuries, will be ready to go for game one. 
About the Contributor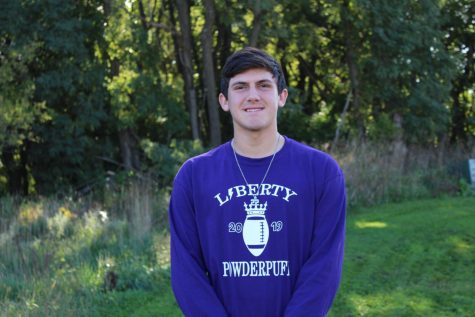 Zack Anderson, Social Media Chair
Zack is a senior at Liberty, and this is his second year as a part of the Live Wire staff. He plays golf and baseball for the Bolts. He also participates...