Boys Basketball Starts Season With a Great Win
Season Upcoming
With the first game of the season approaching, the Liberty Boys Basketball team is looking to make big strides from last year and have their eyes set on the championship. With 4 out of 5 starters returning, the Bolts have lots of experience and are ready to make a run. 
Seniors Ben Houselog, Andre Brandon, and Sam Funke, are looking to improve from last year. Ira Hazeltine and Ethan O'Donnell are also looking to take on bigger roles this upcoming season.
The team also has a lot of depth with players that can come off the bench and score points. Juniors Cody Schroeder, Basil Aldoss, and Kelby Telander have all showed they can hold their own on the court and help out the team.
With the Bolts having almost their whole roster returning, they are looking to be a powerhouse in both the Mississippi Valley Conference and in class 4A. 
Game 1
The Liberty Boys took the trip to Washington, Iowa last night. They took on the Demons who came into the game with a 1-0 record after beating Centerville in their season opener. The Bolts starters were: juniors Ira Hazeltine and Basil Aldoss, and seniors Sam Funke, Ben Houselog and Andre Brandon.
The scoring started out right away for the Bolts. Finishing the first quarter leading 29-10. With game high scorers Hazeltine, 21, Brandon, 14, and Kelby Telander with 12. Shooting at a 48% from the field, the Lightning outscored the Demons in all four quarters.
"
Not only my shooting improved our teams energy, because it wasn't just me making shots it was the whole team."
— Ira Hazeltine
Rebound leaders were Funke with 9 and Telander with 8. Assist leaders were Houselog and Aldoss both having 5. Aldoss also had a game high number of 3 blocks. Houselog playing scrappy as always, lead with 5 steals.
Top Performer Ira Hazeltine
Hazeltine finished the game shooting 6 of 9 from beyond the arc. While also shooting 3 of 4 from the free throw line. His outstanding shooting brought lots of energy to the team throughout the game.
About the Writer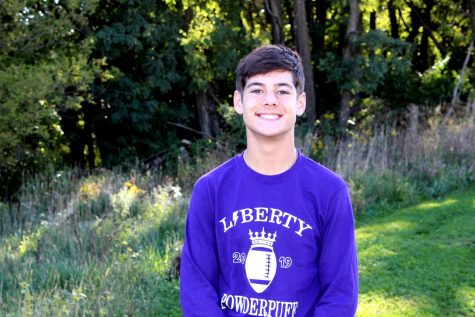 Brody Fishman, Reporter
Brody is a senior at Liberty, and this is his second year on the Live Wire staff. Brody plays football, baseball, and also runs track. His favorite subject...