Fall Play Review: Property Rites
On Saturday, December 14th, I went to go see this year's play, Property Rites. I reviewed the play in regards to my own opinion on the production and the students who were involved.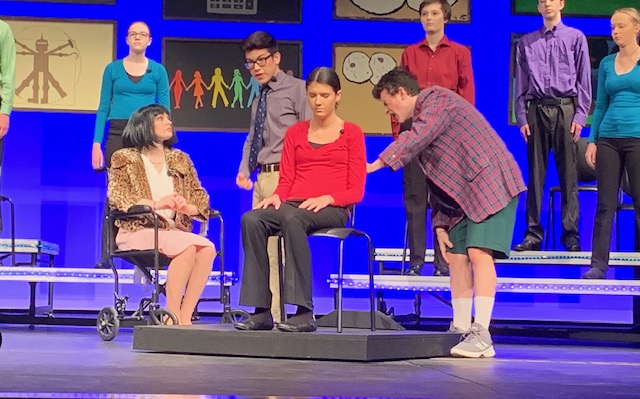 Liberty's theater program has always outdone themselves when it comes to their productions. With their dazzling sets, outstanding talent, and their marvelous casts, they have become an excitable part of Liberty's atmosphere. 
Nothing going unnoticed, the new director, Olivia Symmonds,  stated, "I've been blown away by the talent I've seen already at Liberty, but more importantly than that is the work ethic and supportive attitudes that students show towards each other."
On Saturday, December 14th, I went to see this year's play, Property Rites. I had been told prior to attending the play that Property Rites was only 1 act (45 minutes), to which I would say, it definitely felt like that. The only issue I had when it came to those 45 minutes was the ending. I thought that the ending seemed a tad abrupt, and the play ended with a cliffhanger, which was to no fault of the Liberty students anyway.
The show itself I found was quite entertaining. It was funny, though I don't think it was supposed to be. Deuce Martin, sophomore, had a character I sensed was the comedic relief in the show. Even though his performance was short-lived, I felt like he embodied the character he was playing really nicely, as did the entire Liberty Theater cast. 
However, some stood out to me more than others. Ryan Elmer, sophomore, who played one of the lead roles, acted as a character who was nervous and quite unsure of himself, which came across very well in his performance. For example, the way he carried himself and stuttered some of his lines, whether that was intentional or not, added a nice realistic touch to his character.
Mariana Lehnertz, sophomore, who claimed after the play "I forgot my line and couldn't breathe, then almost started crying," had one of my favorite performances in the production.
"
I forgot my line and couldn't breathe, then almost started crying"
— Mariana Lehnertz
Her character was harsh and showed a lot of the metaphors Lehnertz said were in the play. Her character, who was a robot that was the first to become fully autonomous but hid it from the other robots, was quite scary. If I'm being honest, from her character alone, I came to the conclusion that I never wanted to make Lehnertz angry because of how terrifying her tone was toward her cast members in the production.
The plot, however, wasn't the most entertaining, but once again I don't think that was the cast's fault. They probably could have spruced it up a bit more, but I was told by Poseybelle Stoeffler, sophomore, "The production has been a little difficult because of the timing and shorter rehearsal period due to a few conflicts." 
Elmer added, "[The time frame] added a bit of anxiety."
I didn't enjoy how it ended, but I think that's simply because I've never been a big fan of cliffhangers. Although, I think the middle of the play made up for it with its strangely creepy 'deeper meaning' messages.
Lehnertz said, "[The play] is supposed to be about society."
I could see what Lehnertz was getting at with the hidden societal messages even without her telling me after the play. There were topics spoken from Stoeffler's character about 'free will' and how no one should be 'forced to live at the commands of others'. From this, I could tell the play wasn't supposed to be funny towards the end. 
With so many hidden meanings and a dark underlying plot, I did enjoy this play. I didn't enjoy how short it was, but again, that's my own personal preference.
I cannot wait to see what else the Liberty High School Theater program has in store for us this year. 
When I inquired about the future of the program, Symmonds replied, "I'm hoping to have our program join the International Thespian Society next year or the year after." Adding, "I think it's very important that students get to explore multiple aspects of theater, and that everyone gets recognized for the hard work and hours it takes to put a show together."
It is exciting in the sense that the theater students will be recognized by not just us but others. According to SchoolTheater.org, the International Thespian Society is an "honor society for theatre arts students," and also that, "Thespians may earn additional honors for work done after induction. Most Thespian benefits last through grade twelve."  From the show I went to, as well as the ones I've seen in the past, this seems entirely fair for such a wonderful group of talented students.
While I wasn't a big fan of the script itself, the students did a great job on stage, there were no crazy hiccups in their lines of actions, and their characters were all played to such a degree that I could have sworn I was watching a movie. I intend to attend all of Liberty Lightning Theatre's future shows, and I'm especially excited for this year's musical to which I'm sure they will dominate the stage just as they always do.
About the Contributor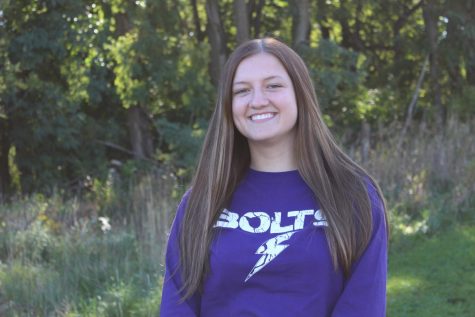 Gabrielle Brecht, Writer
Gabrielle, mainly known as Gabby, is a first-year writer on The Live Wire. A sophomore at Liberty, she enjoys playing in the band as a trumpet and reading...