Life of a Teacher Coach
While students may not understand how hard it is to be a teacher-coach, balancing the two is difficult and time-consuming. This is how our own Liberty teachers, Austin Pink and Allie Hutcheson, double as coaches.
Teacher by day, coach by night. Whether it's early weightlifting or late nights in the gym, coaching by itself is a hard task. Teaching is no easy feat either, requiring hours to prepare for a long day at school and late-night hours grading. Not to mention, many of them have families to go home to. Allie Hutcheson and Austin Pink are just two of the many teacher-coaches at Liberty High. Day after day, they take on the enduring tasks of both teaching and coaching. 
Hutcheson teaches a variety of math classes at Liberty and is the junior varsity volleyball head coach. She is also the assistant head coach for the varsity volleyball team and contributed to the near-undefeated team's first state appearance.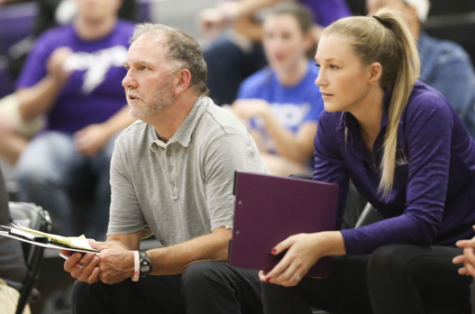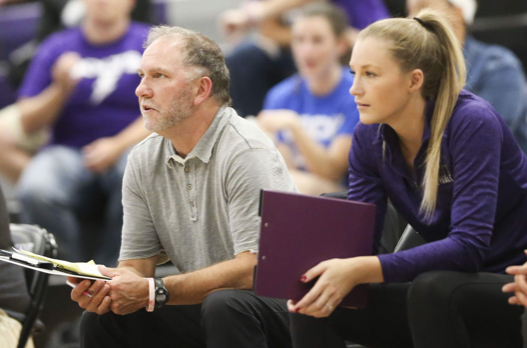 During the volleyball season, Hutcheson starts her day by planning and grading for almost two hours before she starts teaching. After school gets out, she spends the majority of her night at volleyball practice. When volleyball practice gets done, she returns home to continue school work. Hutcheson says it's tough sometimes balancing both her teaching and coaching careers.
"During the season, I don't think I balance it well, and then the rest of the year, I stay away from volleyball a little bit more so that it balances in that regard," said Hutcheson.
Hutcheson spends more than thirty hours a week coaching volleyball. With a very heavy amount of time spent in the gym, sacrifices have to be made. 
"I think you just miss a lot of gatherings with friends and stuff. [Our season is] during the fall and a lot of my friends go to Hawkeyes games and stuff and typically I don't get to do those, but yeah, you just miss fun things like that," said Hutcheson.
One other teacher and coach, Austin Pink, plays a large role in the Liberty football team as the offensive coordinator. He teaches health classes, P.E. classes, and success center. Pink's time is limited at home with his two children and wife when football is in season. 
"Now that football season is over, my schedule is a little more family-friendly and flexible," said Pink. "I take McCoy and Caden to daycare every morning at 7:45. With the way my schedule is set up now, I am able to get my workout in before the start of the school day. I teach Performance P.E., Health, and Success Center classes throughout the day. After school, I go pick up my boys from daycare and take them back home where we play for an hour before supper time." 
Pink has some key strategies for staying on top of his responsibilities.
"Organization is key. Teaching and coaching go hand in hand. Coaching is pretty much teaching, just in a different setting," said Pink.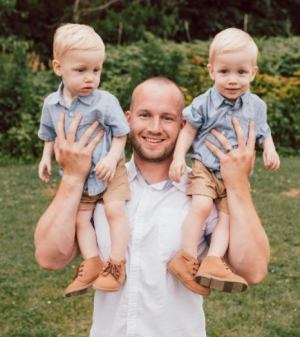 He strives to bring a certain energy to class or to practice every day.
Pink stated, "I want students and athletes to want to come to my classroom or practice."
Pink also talks about the difficulty of balancing his home life with his schooling and coaching life.
"It is tough during the season, but it is important to balance it as best as I can," said Pink. "I make sure to be in the moment when I am with my family. I can't be thinking about teaching or football. At the end of the day, family is the most important thing, and that keeps me motivated to be the best father and husband I can be as well. It doesn't matter if it's in season or not."
Many student athletes have gotten the chance to work with Hutcheson and Pink. Drake Woody, senior, was the starting quarterback on the Varsity football team and has gotten to know Pink not only as a coach but also as a teacher and a mentor.
Woody was not always so comfortable with Pink, however.
"I was honestly really intimidated by him, but I was super excited to work with him," Woody explained,."I was super excited and really wanted to perform at my best to show what type of team he was getting into." 
Woody's eagerness proved to serve him well as he went on to build a strong bond with Pink, expressing how much of a better person he is because of him.
"It's really great to work with Pink one on one; he has helped me so much this year grow not only as a leader but [also] in the QB role," expressed Woody.
According to Woody, Pink's positive attitude is contagious.
"I think he makes people motivated whenever they meet him." Woody explained, "If you look at his Twitter, he posts some of the greatest motivational types of tweets. If you talk to him, you realize that he is a great guy and that makes you want to hang around with him more and more and then all of a sudden you are doing the same to others."
Another student-athlete that has gotten the opportunity to learn from these two is Gabbie Schroeder, sophomore. Schroeder displays a promising athletic future, receiving some varsity-volleyball playing time throughout her freshman and sophomore years.
"
Keep a planner so you have a to-do list. I really like to check things off. Make sure that you're getting enough sleep, which is hard to do. "
— Allie Hutcheson, Math
Schroeder and Hutcheson have developed a unique friendship over the years, not only on the court but also in the classroom as well. 
"She is a great friend off and on the court and in and out of the classroom," Schroeder said. 
Schroeder first met Hutcheson at a volleyball club practice and said that she just gave off a fun and energetic vibe.
Schoeder is also familiar with Hutcheson in the classroom.
"Hutch is one of the best teachers I have ever had. She's really good at explaining the lesson she's teaching. She's really good at making learning easy and fun. She has very good relations with all her students," said Schroeder.
Schroeder's favorite memories with Hutcheson come from when Hutcheson was the head coach of the junior varsity team. 
"We called our junior varsity team the 'Fun Team.' Just being a part of the team is truly a once in a lifetime opportunity. It was one of the most fun teams I have ever played on. Hutch had a big part in making it as fun as it was," said Schroeder. "She's a very positive, upbeat person. She's a great leader. She's been a great impact [on me] and my high school life."
About the Contributors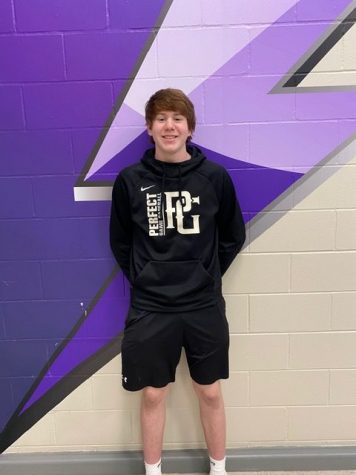 Jack Funke, Reporter
Jack Funke, junior, is a second year staff member. He plays on the Liberty baseball team and plays in the Average Basketball League. He is also in Liberty...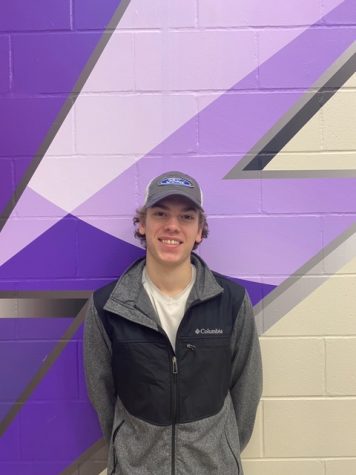 Luke Bollier, Reporter
Luke Bollier, junior, is a second year staff member. He plays on the baseball team and is involved in Difference Makers here at Liberty. He enjoys being...