Down to the Pointe
Amelia Cleary, sophomore, may not be a Liberty athlete, but this Bolt spends more time training and competing than most student-athletes.
Hang on for a minute...we're trying to find some more stories you might like.
Black leotards, ballet shoes, the smell of sweat. These are common occurrences in sophomore Amelia Cleary's life. While most teenagers are creating TikTok dances, Cleary is carrying out difficult training for ballet, contemporary, jazz, and modern technique. 
Like many girls, Cleary started dancing at the young age of two, but unlike some others who dance, dancing has become her passion and currently consumes the majority of her free time, making it difficult to have the "average" teenage life. 
The dancer's lifestyle can be extremely demanding. Cleary spends roughly 15 hours a week doing challenging technique training and 20 plus hours at Nolte Academy, her dance studio. Cleary's passion takes a toll on many aspects of her life. 
Cleary said, "[dancing] kind of affects everything."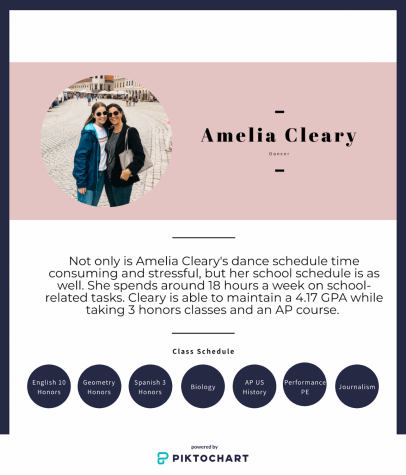 Being a dancer is a large time commitment, making it very challenging to find time to participate in other extracurricular activities and spend time with friends outside of the dance studio. 
"Not a lot [of time], especially with the combination of school and dance," said Cleary.
The physicality level of dance can by highly underestimated by many. Dancers undergo various injuries. Cleary has overcome many minor injuries and has been able to avoid severe ones. 
Anna Manternach, Liberty's Athletic Trainer said, "General dance injuries, I've seen tendonitis in the knees, sometimes in the ankle, we also see some hip injuries that tend to be pretty common in dancers and then back injuries. Long term injuries tend to be some wear and tear of the joints in general."
Along with other dancers, Cleary experiences loads of physical and mental stress. Their bodies hold positions and move in ways that the average body is not built to do. 
"The stress of injuries [on dancers] and the stress that the art form places on the body making the injury risk increased a significant amount for adolescent female dancers," Said former dancer and Athletic Training Student, Karina Sanchez.
 Dancers experience extreme stress mentally because of the pressure to do moves properly and staying on the beat with their teammates, especially during competitions. 
Liberty Varsity Dance Team member Vanessa Hegland, freshman, said, "Emotionally you have to work harder than you knew you could, push yourself and can be very stressful to execute everything perfectly during competitions but in the end, it pays off for the final performance." 
Her passion glows with admiration for former dancers who have impacted her dancing career. At her studio, she has lots of professionals brought in to teach classes and enjoys hearing their stories of how they were in her position and how they got to where they are currently.
 Overall Cleary would not change a thing about her dancing lifestyle because she loves what she does and the people she does it with. She is extremely grateful for the opportunity to meet the most influential, caring people in her life along with the chance to fulfill her strong passion for dance.