Liberty Reflects on the Loss of a Legend
Kobe Bryant was a five time NBA champion. He played his entire twenty-season career with the Los Angeles Lakers. He was an inspiration to many, including many people here at Liberty.
Kobe Bryant was undoubtedly one of the most important figures in the basketball community. He played professional basketball straight out of high school and had many great accomplishments during his career. Not only was he considered one of the best basketball players of all time, but he worked to spread his inspiration to others. He was able to reach athletes all over, including many people here at Liberty. 
"Kobe was the man who made me want to pick up a basketball. He inspired the love I have today, and no one worked harder than him. His work ethic inspired me and made me want to get better as a basketball player," said Colin Shults, sophomore and varsity basketball player. "Not only was he one of the greats, but his character was what stood out to me. He overcame any obstacle, but was a good person who cared for his family and others around him." 
One thing that Bryant was admired for was his constant determination. He was always pushing himself to the max, even through injury. He was either working himself in the gym or helping others to reach their goals and share his same passion. His growth as a person and a player was evident to everyone.
"As a player, he was relentless! He was always working to get better at his craft and he never wanted anyone to outwork him. As a person, I saw more of this after his retirement. How he worked and helped his daughter grow her own craft in the game of basketball. The way he reached out to communities and helped the public. He was always involved," said Ryan Kelly, Liberty Assistant Varsity Basketball Coach/JV Coach.
Kobe was also an admirable parent, and enjoyed spending time with his daughters. Gianna (Gigi) was his thirteen-year-old daughter, whom he coached at the Mamba Academy. His nickname was the "Black Mamba", and eventually became the title of his brand. He even wrote a book "The Mamba Mentality", which means to strive for success in all things you pursue and to put your best effort forward.
"We should remember Kobe as a man who is an icon for the game of basketball. An icon for how we should raise our children without pressures and allow them to experience things for themselves," said Kelly.
Kobe was an icon, and an inspiration to many. From the beginning to the end he rose above the obstacles life threw at him. 
"My favorite memory was his last game when he scored 60 points. It was amazing how he was able to perform despite the pain you could tell he was feeling. He also brought the Lakers back to win it. […] I think Kobe would want to be remembered as a hard worker and somebody who never let anything or anyone get in his way," explained Shults.
His book, his Academy, and his motivational speeches have reached people even outside of the basketball community. His words have touched the hearts of many, and he has left an impact that is unforgettable. He was an amazing father to his daughters and overall a loving dedicated parent.
"Kobe was important, because he gave hope to people. It was because of him that a lot of athletes wanted to pursue ball and be the best they can be. However, basketball won't be the only thing he is remembered for. He was a loving mentor, father, and icon. He gave so much back to the game, and the youth alone. In the latest article released that talked about how he was found holding his daughter in his hands reflects what kind of a person he actually was. He is someone that no matter what, he was going to go above and beyond whether it was basketball itself, supporting family AND friends, donating to charity, etc.," said Mark Lowe, Liberty Sophomore Basketball Coach.
Kobe Bryant and his daughter Gianna (Gigi) along with seven others were killed in a helicopter crash in foggy conditions on January 26th, 2020. They were on their way to his daughter's basketball game at the Mamba Academy. The crash remains under investigation, and the cause of the crash is yet to be determined.
About the Writer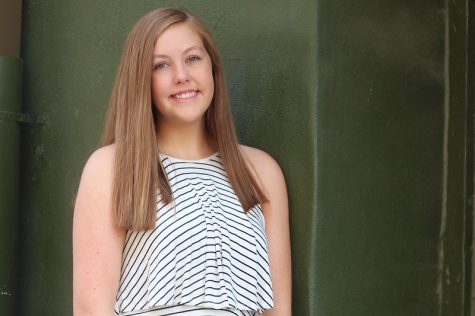 Elizabeth Barnett, Writer
Elizabeth Barnett, most commonly known as Liz, is a first-year writer on the Live Wire staff. She is a sophomore at Liberty, and is involved in volleyball...