Liberty Students Find Popularity on TikTok
Liberty students share their thoughts about one of the world's most downloaded social media apps.
We live in an age where attention spans are short, and the content we consume is even shorter. TikTok, previously known as Musical.ly, displays content to users in an endless stream, constantly loading new content and keeping users engaged. This format is extremely effective and can keep viewers scrolling for hours. 
With so many people using the app and viewing the content, it's becoming easier to go viral. New and upcoming creators often show up on TikTok's For You Page, which is designed to entice the viewer to watch more content and follow more pages. 
Ben Houselog, senior, has gathered a massive following on TikTok. Houselog posts multiple videos a day and self-describes them as comedy, a popular genre on the platform. 
"I got really bored one day and figured that I might as well try it out," said Houselog. "I was growing pretty [consistently] but right around the time school started my account started gaining a lot of followers."
Houselog, with thousands of likes on every video, has apparently struck the right chord with viewers and has seen a dramatic increase in viewership. Back in mid-Dec. 2019, he had a follower count of roughly 190k. At the end of Jan., he was up to over 510.9k followers on TikTok. 
Part of the success of apps like TikTok is how restricted the length of the content is. TikTok videos are usually only a few seconds to a minute long in order to snag the viewer's attention and increase replay value, but even minute-long videos have the potential to be ignored. The most effective video length is somewhere between 15 to 30 seconds depending on the type of content being recorded.
"
My follower count is not that important to me for the most part besides knowing that such a big group supports me and likes my content.
— Elaine Brustkern
Elaine Brustkern, junior, has about 10.2k followers on TikTok as of Jan. 2020. Brustkern's approach to creating on the app is much different than Houselog's. Brustkern uses her unique artistic skills to bring her favorite characters to life on screen. Most of her videos show these characters lip-syncing and dancing to songs pulled from TikTok's music library.
"I post a lot of makeup and costuming videos because I find it to be a really fun creative outlet. It's just something fun for me to do when I have free time," said Brustkern. "My follower count is not that important to me for the most part besides knowing that such a big group supports me and likes my content."
Followers aren't everything, but the confidence boost that comes with a bigger number can help those who find it hard to be their own emotional support. Putting yourself out onto the internet can be frightening, but at the same time, it can be reassuring to know that there are people out in the world who share your interests. 
About the Contributor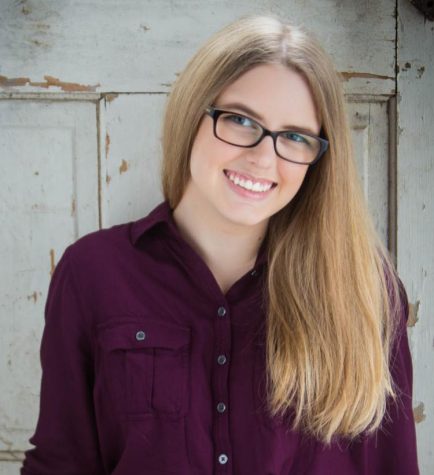 Aubrey Dallner, Writer
Aubrey Dallner, a senior, is a new member of The Live Wire staff. Ever since grade school, she has enjoyed writing stories and making art, so joining The...