Collegiate Athletes Teaching at Liberty
The Live Wire discovers the stories of three Liberty staff members that played sports while in college.
Most staff member at Liberty had a different hobby or job before they came to Liberty. For some, this was participating in college athletics, an opportunity many high school athletes dream of. From football and baseball to dance and gymnastics, Liberty staff members played a variety of sports during their college careers.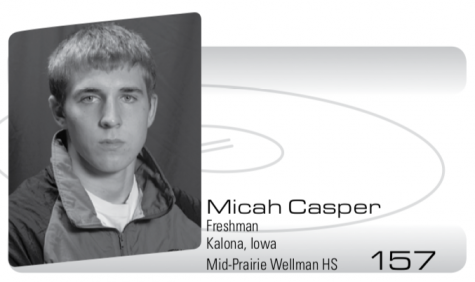 Industrial technology teacher Micah Casper grew up in Wellman, Iowa. At a young age, Casper was a "crazy hyper kid" and his father had always told him he needed some sort of outlet. This is when Casper started his wrestling career. 
"Once I started wrestling at a young age, I fell in love with the physicality of the sport," said Casper. 
His goal was never to go to college and continue wrestling but simply to be successful in every aspect of his life. Wrestling came naturally to Casper. Putting in the countless hours of hard work and dedication brought Casper to his achievements. 
"I never truly needed motivation. I enjoyed the process and challenge that came with working hard to achieve success," Casper said. 
Casper had the opportunity to wrestle at the University of Northern Iowa from 2007 to 2011. During this time, Casper also studied construction. One of Casper's favorite memories from his time at Northern Iowa is the bond he formed with his teammates, whom he still keeps in touch with. He has used the connections he built in college to now help him develop professionally. 
For Casper, one of the hardest parts about being a college athlete was the competition.
"The level of competition in college was incomparable to high school. [It was] much more difficult," said Casper.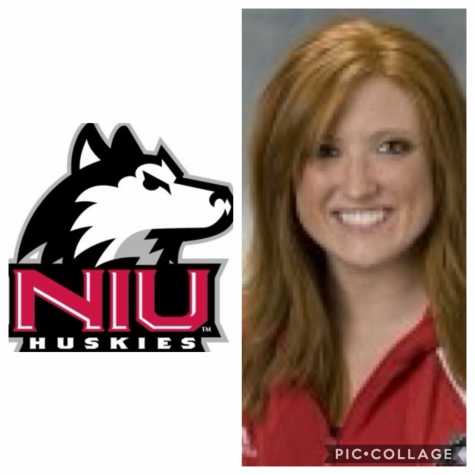 Jenny Naughton, counselor, was raised in a town in northwest Missouri called Smithville. Growing up with an older sister, Naughton wanted to be exactly like her. 
"My sister and I started in dance, but both ended up just hanging upside down on the ballet bar and doing flips on the living room couch. My mom's solution was to get us in tumbling. That's when I started gymnastics at age 5," said Naughton. 
Through dedication, persistence, and hard work, Naughton spent 20+ hours a week in the gym starting when she was only eight years old. Gymnastics was her life and her passion growing up. 
When she turned nine, Naughton's goal was to go to college for gymnastics. While many people helped her along the way, Naughton's mother was her main motivator and always pushed her to her limits. She was also the main reason Naughton stuck with gymnastics and eventually got a full athletic scholarship. 
In 2005, Naughton started her college journey at Northern Illinois University. Some of Naughton's favorite times in college were during her senior year. She was named Mid-American Conference Senior Gymnast of the year and Northern Illinois Female Athlete of the Year. Naughton also qualified for the NCAA regionals for beam and won the Mid-American Conference Beam Champion.  
With college being a big commitment on its own, adding on a sport makes it much more difficult. 
"It was a lot, but every bit worth it. Being a college athlete teaches you great time management skills, you don't have time to procrastinate," added Naughton.
College athletes are also held to a high academic standard. If one has a 3.00 GPA or below, they are required to attend study tables for six hours a week. Because academics are such a high priority, the athletic department helps connect athletes with tutors if needed.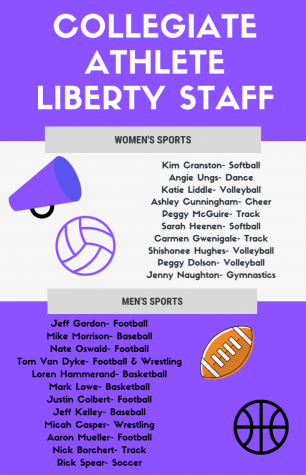 Football and track coach Nathan Oswald, science teacher, grew up in Dubuque, Iowa, and attended Dubuque Hempstead High School. 
Oswald went out for track during his sophomore year of high school, which led him into the sport of football. Junior year was Oswald's first year of football. 
"Hard work, dedication in the weight room, running a lot, and doing my best in school. Also  eating a lot of calories to gain 40 pounds during my junior year," said Oswald. 
When his best friend Jason pushed him to go out for football, he dove right into the process of becoming a lineman. 
Growing up, Oswald had always wanted to play baseball after high school. But, this changed very quickly when he started football. During junior year, Oswald gained almost 40 pounds and put a lot of hard work and dedication in the weight room and the classroom. 
When Oswald started his college career at Loras College in Dubuque, he was confronted by his coaches and was told he needed to gain about 60 pounds. 
"Going from [weighing] 225 to 295 was a lot of eating and lifting. While not losing any speed or agility while doing it was a challenge," added Oswald. 
For Oswald one of the most difficult parts of being a college athlete was minimizing the distractions he faced. He had to spend many Friday and Saturday nights in the Library studying, instead of hanging out with friends.
During his senior year, Oswald was named an Academic and Athletic All American. He also made many friends that he still keeps up with and is very thankful for all the memories he had while in college.
About the Contributor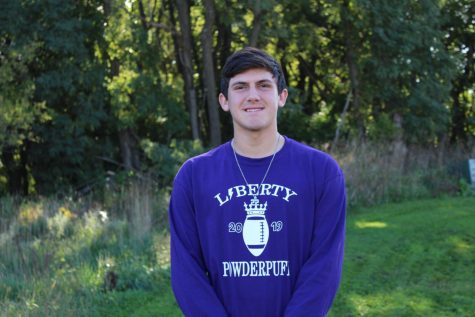 Zack Anderson, Social Media Chair
Zack is a senior at Liberty, and this is his second year as a part of the Live Wire staff. He plays golf and baseball for the Bolts. He also participates...