Show and Jazz Choirs Win Big On Overnight Trip
Liberty's show and jazz choirs came away from North Polk Comet Sensation with multiple awards.
Liberty jazz and show choirs came away from an overnight trip with multiple awards this past Feb. 14 and 15. The trip was a make-up for a previously scheduled overnight trip to the Waukee Starstruck Show Choir Invitational and Jazz Choir Festival, which was canceled due to snow. 
On the first day of the trip, students attended a jazz exchange at Roland-Story High School, performing for and giving advice to Roland-Story's first-year vocal jazz program. After spending the night at a hotel, students departed to North Polk High School for the North Polk Comet Sensation Show & Jazz Choir Competition. 
In the 4A jazz choir category, Voltage placed first, Amplify second, and Spark fourth. Scott Dill, senior and member of Voltage, won an Outstanding Soloist award for his solo in the song Here's to Life. 
Liberty show choirs swept the competition with Impact and Storm both placing first in their respective divisions. Storm placed first overall, making them the Grand Champions. Storm also won the caption awards Best Vocals and Best Band, and senior Katey Halverson was recognized with an Outstanding Soloist award.
The Best Band award was particularly special due to an ongoing inside joke within the show band and choir. 
"Our first year, we started [saying 'best band'], but it wasn't really serious because we knew we wouldn't get it," said Corissa Gavin, senior and tenor saxophone player. "And then the second year, since we had more people, it started growing and growing, and then it started growing within the choir, like 'best band, best band, best band! We'll win it this year!'"
"We were all just really happy. The show choir was really happy for all of us, everyone was just happy that we won best band," continued Gavin.
The competition was the first time Storm won Grand Champion in the three years since the group's creation. It was also their last show choir competition of the season.
"[Winning Grand Champion is] a culmination of three years of hard work that our show choir put in through blood sweat and tears," said Agustin Colon-Sanchez, senior. Colon-Sanchez is featured as a recurring dance soloist in Storm's performance.
About the Writer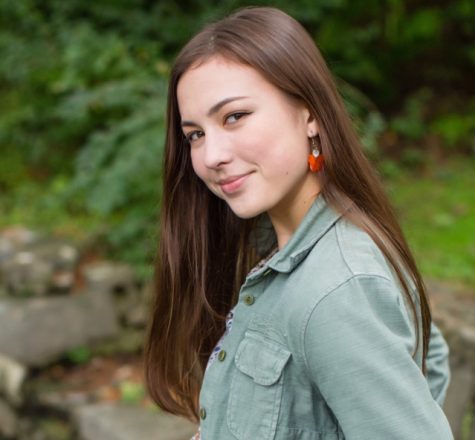 Abby Fowler, Copy Editor
Abby Fowler, senior, has been a copy editor for The Live Wire since year one. Fowler is also involved in varsity tennis, SLAP, Voltage jazz choir, speech,...